Earlier Versions
| | | | | | |
| --- | --- | --- | --- | --- | --- |
| Cyclic-1.18.2-1.7.9.jar release | 4.40 MB | Sep 15, 2022 | 1.18.2 | 7 | Download |
| Cyclic-1.16.5-1.5.19.jar release | 3.65 MB | Sep 13, 2022 | 1.16.5 | 1,816 | Download |
| Cyclic-1.18.2-1.7.8.jar release | 4.40 MB | Sep 12, 2022 | 1.18.2 | 1,660 | Download |
| Cyclic-1.18.2-1.7.7.jar release | 4.39 MB | Aug 22, 2022 | 1.18.2 | 23,817 | Download |
| Cyclic-1.18.2-1.7.6.jar release | 4.39 MB | Jul 23, 2022 | 1.18.2 | 47,630 | Download |
| Cyclic-1.16.5-1.5.18.jar release | 3.65 MB | Jul 22, 2022 | 1.16.5 | 181,858 | Download |
| Cyclic-1.18.2-1.7.5.jar release | 4.38 MB | Jul 21, 2022 | 1.18.2 | 1,046 | Download |
| Cyclic-1.18.2-1.7.4.jar release | 4.38 MB | Jul 20, 2022 | 1.18.2 | 458 | Download |
| Cyclic-1.18.2-1.7.3.jar release | 4.36 MB | Jul 18, 2022 | 1.18.2 | 57,186 | Download |
| Cyclic-1.16.5-1.5.17.jar release | 3.65 MB | Jun 29, 2022 | 1.16.5 | 68,569 | Download |
| Cyclic-1.18.2-1.7.2.jar release | 4.27 MB | Jun 28, 2022 | 1.18.2 | 50,771 | Download |
| Cyclic-1.18.2-1.7.1.jar release | 4.27 MB | Jun 6, 2022 | 1.18.2 | 43,997 | Download |
| Cyclic-1.18.2-1.7.0.jar release | 4.19 MB | May 2, 2022 | 1.18.2 | 65,255 | Download |
| Cyclic-1.12.2-1.20.12.jar release | 3.80 MB | Mar 28, 2022 | 1.12.2 | 546,796 | Download |
| Cyclic-1.16.5-1.5.15.jar release | 3.65 MB | Mar 27, 2022 | 1.16.5 | 753,732 | Download |
| Cyclic-1.18.2-1.6.18.jar release | 3.98 MB | Mar 22, 2022 | 1.18.2 | 58,033 | Download |
| Cyclic-1.18.2-1.6.17.jar release | 3.97 MB | Mar 17, 2022 | 1.18.2 | 4,274 | Download |
| Cyclic-1.18.2-1.6.16.jar release | 3.97 MB | Mar 14, 2022 | 1.18.2 | 2,274 | Download |
| Cyclic-1.18.1-1.6.15.jar release | 3.97 MB | Mar 7, 2022 | 1.18.1 | 55,345 | Download |
| Cyclic-1.18.1-1.6.14.jar release | 3.97 MB | Mar 3, 2022 | 1.18.1 | 26,580 | Download |
| Cyclic-1.18.1-1.6.13.jar release | 3.97 MB | Feb 25, 2022 | 1.18.1 | 8,785 | Download |
| Cyclic-1.18.1-1.6.12.jar release | 3.97 MB | Feb 11, 2022 | 1.18.1 | 19,725 | Download |
| Cyclic-1.18.1-1.6.11.jar release | 3.95 MB | Feb 8, 2022 | 1.18.1 | 5,571 | Download |
| Cyclic-1.16.5-1.5.14.jar release | 3.65 MB | Feb 8, 2022 | 1.16.5 | 235,517 | Download |
| Cyclic-1.18.1-1.6.10.jar release | 3.95 MB | Jan 17, 2022 | 1.18.1 | 48,330 | Download |
| Cyclic-1.18.1-1.6.9.jar release | 3.95 MB | Jan 4, 2022 | 1.18.1 | 35,089 | Download |
| Cyclic-1.18.1-1.6.8.jar release | 3.95 MB | Dec 31, 2021 | 1.18.1 | 11,088 | Download |
| Cyclic-1.16.5-1.5.13.jar release | 3.64 MB | Dec 30, 2021 | 1.16.5 | 616,868 | Download |
| Cyclic-1.16.5-1.5.11.jar release | 3.63 MB | Nov 14, 2021 | 1.16.5 | 715,223 | Download |
| Cyclic-1.16.5-1.5.10.jar release | 3.63 MB | Nov 7, 2021 | 1.16.5 | 30,776 | Download |
| Cyclic-1.16.5-1.5.9.jar release | 3.62 MB | Nov 4, 2021 | 1.16.5 | 13,711 | Download |
| Cyclic-1.16.5-1.5.8.jar release | 3.62 MB | Oct 26, 2021 | 1.16.5 | 137,511 | Download |
| Cyclic-1.16.5-1.5.7.jar release | 3.61 MB | Oct 25, 2021 | 1.16.5 | 48,473 | Download |
| Cyclic-1.16.5-1.5.6.jar release | 3.61 MB | Oct 24, 2021 | 1.16.5 | 52,542 | Download |
| Cyclic-1.16.5-1.5.5.jar release | 3.61 MB | Oct 21, 2021 | 1.16.5 | 6,667 | Download |
| Cyclic-1.16.5-1.5.4.jar release | 3.61 MB | Oct 19, 2021 | 1.16.5 | 6,295 | Download |
| Cyclic-1.16.5-1.5.3.jar release | 3.61 MB | Oct 14, 2021 | 1.16.5 | 92,973 | Download |
| Cyclic-1.16.5-1.5.2.jar release | 3.61 MB | Oct 8, 2021 | 1.16.5 | 42,818 | Download |
| Cyclic-1.16.5-1.5.1.jar release | 3.61 MB | Oct 6, 2021 | 1.16.5 | 4,648 | Download |
| Cyclic-1.16.5-1.4.2.jar release | 3.36 MB | Sep 23, 2021 | 1.16.5 | 258,388 | Download |
| Cyclic-1.16.5-1.4.1.jar release | 3.35 MB | Sep 18, 2021 | 1.16.5 | 89,010 | Download |
| Cyclic-1.16.5-1.3.8.jar release | 3.28 MB | Sep 4, 2021 | 1.16.5 | 103,818 | Download |
| Cyclic-1.16.5-1.3.7.jar release | 3.28 MB | Aug 31, 2021 | 1.16.5 | 16,301 | Download |
| Cyclic-1.16.5-1.3.5.jar release | 3.26 MB | Aug 2, 2021 | 1.16.5 | 370,323 | Download |
| Cyclic-1.16.5-1.3.4.jar release | 3.25 MB | Jul 23, 2021 | 1.16.5 | 201,398 | Download |
| Cyclic-1.16.5-1.3.3.jar release | 3.20 MB | Jul 17, 2021 | 1.16.5 | 45,624 | Download |
| Cyclic-1.12.2-1.20.11.jar release | 3.80 MB | Jul 12, 2021 | 1.12.2 | 725,992 | Download |
| Cyclic-1.16.5-1.3.2.jar release | 3.20 MB | Jul 10, 2021 | 1.16.5 | 57,203 | Download |
| Cyclic-1.16.5-1.3.1.jar release | 3.20 MB | Jul 8, 2021 | 1.16.5 | 6,689 | Download |
| Cyclic-1.16.5-1.2.11.jar release | 2.98 MB | Jun 13, 2021 | 1.16.5 | 341,863 | Download |
| Cyclic-1.16.5-1.2.10.jar release | 2.98 MB | Jun 6, 2021 | 1.16.5 | 65,850 | Download |
| Cyclic-1.16.5-1.2.8.jar release | 2.98 MB | May 24, 2021 | 1.16.5 | 170,796 | Download |
| Cyclic-1.12.2-1.20.9.jar release | 3.80 MB | Apr 17, 2021 | 1.12.2 | 452,753 | Download |
| Cyclic-1.16.5-1.2.7.jar release | 2.95 MB | Apr 16, 2021 | 1.16.5 | 616,270 | Download |
| Cyclic-1.16.5-1.2.5.jar release | 2.93 MB | Apr 13, 2021 | 1.16.5 | 83,005 | Download |
| Cyclic-1.16.5-1.2.3.jar release | 2.90 MB | Apr 7, 2021 | 1.16.5 | 89,263 | Download |
| Cyclic-1.16.5-1.2.2.jar release | 2.90 MB | Apr 6, 2021 | 1.16.5 | 3,738 | Download |
| Cyclic-1.16.5-1.2.1.jar release | 2.90 MB | Mar 24, 2021 | 1.16.5 | 395,821 | Download |
| Cyclic-1.16.5-1.2.0.jar release | 2.90 MB | Mar 17, 2021 | 1.16.5 | 171,664 | Download |
| Cyclic-1.16.5-1.1.9.jar release | 2.90 MB | Mar 8, 2021 | 1.16.5 | 122,119 | Download |
| Cyclic-1.16.5-1.1.8.jar release | 2.90 MB | Feb 28, 2021 | 1.16.5 | 96,339 | Download |
| Cyclic-1.16.5-1.1.7.jar release | 2.89 MB | Feb 26, 2021 | 1.16.5 | 118,322 | Download |
| Cyclic-1.16.5-1.1.6.jar release | 2.89 MB | Feb 6, 2021 | 1.16.5 | 315,573 | Download |
| Cyclic-1.16.5-1.1.5.jar release | 2.89 MB | Feb 1, 2021 | 1.16.5 | 113,778 | Download |
| Cyclic-1.16.5-1.1.4.jar release | 2.89 MB | Jan 26, 2021 | 1.16.5 | 108,726 | Download |
| Cyclic-1.16.4-1.1.2.jar release | 2.89 MB | Jan 14, 2021 | 1.16.4 | 156,202 | Download |
| Cyclic-1.16.4-1.1.1.jar release | 2.86 MB | Jan 11, 2021 | 1.16.4 | 28,443 | Download |
| Cyclic-1.16.4-1.1.0.jar release | 2.86 MB | Jan 8, 2021 | 1.16.4 | 19,562 | Download |
| Cyclic-1.16.4-1.0.2.jar release | 2.76 MB | Dec 31, 2020 | 1.16.4 | 125,712 | Download |
| Cyclic-1.16.4-1.0.1.jar release | 2.75 MB | Dec 27, 2020 | 1.16.4 | 25,280 | Download |
| Cyclic-1.16.4-1.0.0.jar release | 2.76 MB | Dec 21, 2020 | 1.16.4 | 115,974 | Download |
| Cyclic-1.16.4-0.10.1.jar release | 2.71 MB | Dec 14, 2020 | 1.16.4 | 88,567 | Download |
| Cyclic-1.16.4-0.10.0.jar release | 2.65 MB | Dec 8, 2020 | 1.16.4 | 13,409 | Download |
| Cyclic-1.16.4-0.9.4.jar release | 2.61 MB | Dec 4, 2020 | 1.16.4 | 7,319 | Download |
| Cyclic-1.16.4-0.9.3.jar release | 2.61 MB | Nov 26, 2020 | 1.16.4 | 109,134 | Download |
| Cyclic-1.16.3-0.9.2.jar release | 2.60 MB | Nov 11, 2020 | 1.16.4 | 107,689 | Download |
| Cyclic-1.16.3-0.9.1.jar release | 2.60 MB | Nov 8, 2020 | 1.16.4 | 2,695 | Download |
| Cyclic-1.12.2-1.20.8.jar release | 3.81 MB | Oct 22, 2020 | 1.12.2 | 1,587,195 | Download |
| Cyclic-1.16.3-0.8.3.jar release | 2.53 MB | Oct 19, 2020 | 1.16.3 | 109,945 | Download |
| Cyclic-1.12.2-1.20.6.jar release | 3.81 MB | Oct 8, 2020 | 1.12.2 | 2,101,493 | Download |
| Cyclic-1.12.2-1.20.5.jar release | 3.81 MB | Aug 24, 2020 | 1.12.2 | 172,069 | Download |
| Cyclic-1.12.2-1.20.4.jar release | 3.81 MB | Jul 15, 2020 | 1.12.2 | 58,693 | Download |
| Cyclic-1.12.2-1.20.3.jar release | 3.81 MB | Jun 18, 2020 | 1.12.2 | 6,147,617 | Download |
| Cyclic-1.12.2-1.20.2.jar release | 3.81 MB | Apr 19, 2020 | 1.12.2 | 1,685,216 | Download |
| Cyclic-1.12.2-1.20.1.jar release | 3.81 MB | Apr 14, 2020 | 1.12.2 | 14,827 | Download |
| Cyclic-1.12.2-1.19.21.jar release | 3.80 MB | Mar 1, 2020 | 1.12.2 | 458,265 | Download |
| Cyclic-1.12.2-1.19.20.jar release | 3.80 MB | Feb 17, 2020 | 1.12.2 | 393,012 | Download |
| Cyclic-1.12.2-1.19.19.jar release | 3.58 MB | Dec 31, 2019 | 1.12.2 | 624,593 | Download |
| Cyclic-1.12.2-1.19.18.jar release | 3.58 MB | Nov 4, 2019 | 1.12.2 | 2,298,423 | Download |
| Cyclic-1.12.2-1.19.17.jar release | 3.82 MB | Sep 29, 2019 | 1.12.2 | 235,038 | Download |
| Cyclic-1.12.2-1.19.16.jar release | 3.82 MB | Sep 2, 2019 | 1.12.2 | 1,855,621 | Download |
| Cyclic-1.12.2-1.19.15.jar release | 3.82 MB | Aug 24, 2019 | 1.12.2 | 81,507 | Download |
| Cyclic-1.12.2-1.19.14.jar release | 3.82 MB | Aug 5, 2019 | 1.12.2 | 1,543,170 | Download |
| Cyclic-1.12.2-1.19.13.jar release | 3.81 MB | Jul 26, 2019 | 1.12.2 | 437,695 | Download |
| Cyclic-1.12.2-1.19.12.jar release | 3.81 MB | Jun 23, 2019 | 1.12.2 | 661,001 | Download |
| Cyclic-1.12.2-1.19.11.jar release | 3.81 MB | Jun 6, 2019 | 1.12.2 | 1,573,255 | Download |
| Cyclic-1.12.2-1.19.10.jar release | 3.80 MB | Jun 2, 2019 | 1.12.2 | 370,061 | Download |
| Cyclic-1.12.2-1.19.9.jar release | 3.79 MB | May 6, 2019 | 1.12.2 | 337,389 | Download |
| Cyclic-1.12.2-1.19.8.jar release | 3.79 MB | Apr 29, 2019 | 1.12.2 | 448,664 | Download |
| Cyclic-1.12.2-1.19.7.jar release | 3.79 MB | Apr 28, 2019 | 1.12.2 | 70,460 | Download |
| Cyclic-1.12.2-1.19.6.jar release | 3.79 MB | Apr 21, 2019 | 1.12.2 | 131,621 | Download |
| Cyclic-1.12.2-1.19.5.jar release | 3.79 MB | Apr 20, 2019 | 1.12.2 | 3,550 | Download |
| Cyclic-1.12.2-1.19.4.jar release | 3.78 MB | Apr 18, 2019 | 1.12.2 | 103,569 | Download |
| Cyclic-1.12.2-1.19.3.jar release | 3.77 MB | Apr 15, 2019 | 1.12.2 | 102,417 | Download |
| Cyclic-1.12.2-1.18.5.jar release | 3.65 MB | Mar 27, 2019 | 1.12.2 | 503,883 | Download |
| Cyclic-1.12.2-1.18.4.jar release | 3.65 MB | Mar 17, 2019 | 1.12.2 | 120,354 | Download |
| Cyclic-1.12.2-1.18.3.jar release | 3.65 MB | Mar 15, 2019 | 1.12.2 | 8,410 | Download |
| Cyclic-1.12.2-1.18.1.jar release | 3.65 MB | Feb 28, 2019 | 1.12.2 | 72,776 | Download |
| Cyclic-1.12.2-1.17.16.jar release | 3.50 MB | Feb 3, 2019 | 1.12.2 | 594,722 | Download |
| Cyclic-1.12.2-1.17.15.jar release | 3.50 MB | Jan 22, 2019 | 1.12.2 | 119,942 | Download |
| Cyclic-1.12.2-1.17.14.jar release | 3.49 MB | Jan 14, 2019 | 1.12.2 | 140,961 | Download |
| Cyclic-1.12.2-1.17.13.jar release | 3.49 MB | Jan 9, 2019 | 1.12.2 | 94,807 | Download |
| Cyclic-1.12.2-1.17.12.jar release | 3.49 MB | Dec 24, 2018 | 1.12.2 | 202,892 | Download |
| Cyclic-1.12.2-1.17.10.jar release | 3.48 MB | Nov 25, 2018 | 1.12.2 | 196,945 | Download |
| Cyclic-1.12.2-1.17.9.jar release | 3.48 MB | Nov 23, 2018 | 1.12.2 | 377,341 | Download |
| Cyclic-1.12.2-1.17.7.jar release | 3.48 MB | Oct 31, 2018 | 1.12.2 | 238,602 | Download |
| Cyclic-1.12.2-1.17.6.jar release | 3.48 MB | Oct 29, 2018 | 1.12.2 | 5,195 | Download |
| Cyclic-1.12.2-1.17.5.jar release | 3.48 MB | Oct 26, 2018 | 1.12.2 | 27,756 | Download |
| Cyclic-1.12.2-1.17.4.jar release | 3.47 MB | Oct 18, 2018 | 1.12.2 | 293,122 | Download |
| Cyclic-1.12.2-1.17.3.jar release | 3.47 MB | Oct 7, 2018 | 1.12.2 | 120,777 | Download |
| Cyclic-1.12.2-1.16.10.jar release | 3.31 MB | Aug 18, 2018 | 1.12.2 | 240,047 | Download |
| Cyclic-1.12.2-1.16.9.jar release | 3.31 MB | Aug 11, 2018 | 1.12.2 | 225,159 | Download |
| Cyclic-1.12.2-1.16.8.jar release | 3.30 MB | Aug 8, 2018 | 1.12.2 | 4,043 | Download |
| Cyclic-1.12.2-1.16.7.jar release | 3.30 MB | Aug 7, 2018 | 1.12.2 | 622 | Download |
| Cyclic-1.12.2-1.16.6.jar release | 3.30 MB | Aug 4, 2018 | 1.12.2 | 6,777 | Download |
| Cyclic-1.12.2-1.16.5.jar release | 3.27 MB | Jul 27, 2018 | 1.12.2 | 20,357 | Download |
| Cyclic-1.12.2-1.16.3.jar release | 3.25 MB | Jul 22, 2018 | 1.12.2 | 19,427 | Download |
| Cyclic-1.12.2-1.16.2.jar release | 3.25 MB | Jul 13, 2018 | 1.12.2 | 38,309 | Download |
| Cyclic-1.12.2-1.15.16.jar release | 3.04 MB | Jul 2, 2018 | 1.12.2 | 7,023 | Download |
| Cyclic-1.12.2-1.15.15.jar release | 3.04 MB | Jun 27, 2018 | 1.12.2 | 212,973 | Download |
| Cyclic-1.12.2-1.15.14.jar release | 3.03 MB | Jun 25, 2018 | 1.12.2 | 4,865 | Download |
| Cyclic-1.12.2-1.15.13.jar release | 3.03 MB | Jun 23, 2018 | 1.12.2 | 1,495 | Download |
| Cyclic-1.12.2-1.15.12.jar release | 3.03 MB | Jun 17, 2018 | 1.12.2 | 144,958 | Download |
| Cyclic-1.12.2-1.15.8.jar release | 2.83 MB | Jun 2, 2018 | 1.12.2 | 1,186,911 | Download |
| Cyclic-1.12.2-1.15.7.jar release | 2.82 MB | May 30, 2018 | 1.12.2 | 5,141 | Download |
| Cyclic-1.12.2-1.15.6.jar release | 2.81 MB | May 26, 2018 | 1.12.2 | 34,460 | Download |
| Cyclic-1.12.2-1.15.5.jar release | 2.81 MB | May 23, 2018 | 1.12.2 | 16,284 | Download |
| Cyclic-1.12.2-1.15.4.jar release | 2.81 MB | May 21, 2018 | 1.12.2 | 3,396 | Download |
| Cyclic-1.12.2-1.14.9.jar release | 2.61 MB | Apr 18, 2018 | 1.12.2 | 318,515 | Download |
| Cyclic-1.12.2-1.14.8.jar release | 2.43 MB | Apr 10, 2018 | 1.12.2 | 22,754 | Download |
| Cyclic-1.12.2-1.14.7.jar release | 2.43 MB | Mar 29, 2018 | 1.12.2 | 212,342 | Download |
| Cyclic-1.12.2-1.14.6.jar release | 2.40 MB | Mar 23, 2018 | 1.12.2 | 148,742 | Download |
| Cyclic-1.12.2-1.14.5.jar release | 2.40 MB | Mar 22, 2018 | 1.12.2 | 30,794 | Download |
| Cyclic-1.12.2-1.14.4.jar release | 2.39 MB | Mar 19, 2018 | 1.12.2 | 4,574 | Download |
| Cyclic-1.12.2-1.14.3.jar release | 2.39 MB | Mar 16, 2018 | 1.12.2 | 2,830 | Download |
| Cyclic-1.12.2-1.13.6.jar release | 2.32 MB | Mar 7, 2018 | 1.12.2 | 3,237 | Download |
| Cyclic-1.12.2-1.13.5.jar release | 2.32 MB | Mar 5, 2018 | 1.12.2 | 916 | Download |
| Cyclic-1.12.2-1.13.4.jar release | 2.32 MB | Mar 4, 2018 | 1.12.2 | 660 | Download |
| Cyclic-1.12.2-1.13.3.jar release | 2.32 MB | Mar 2, 2018 | 1.12.2 | 39,526 | Download |
| Cyclic-1.12.2-1.13.2.jar release | 2.32 MB | Feb 24, 2018 | 1.12.2 | 10,736 | Download |
| Cyclic-1.12.2-1.13.1.jar release | 2.32 MB | Feb 22, 2018 | 1.12.2 | 1,532 | Download |
| Cyclic-1.12.2-1.13.0.jar release | 2.32 MB | Feb 20, 2018 | 1.12.2 | 743 | Download |
| Cyclic-1.12.2-1.12.1.jar release | 2.25 MB | Feb 15, 2018 | 1.12.2 | 56,476 | Download |
| Cyclic-1.12.2-1.11.2.jar release | 2.22 MB | Feb 3, 2018 | 1.12.2 | 29,027 | Download |
| Cyclic-1.12.2-1.10.12.jar release | 2.30 MB | Jan 20, 2018 | 1.12.2 | 75,177 | Download |
| Cyclic-1.12.2-1.10.11.jar release | 2.26 MB | Jan 14, 2018 | 1.12.2 | 45,911 | Download |
| Cyclic-1.12.2-1.10.10.jar release | 2.25 MB | Jan 2, 2018 | 1.12.2 | 11,425 | Download |
| Cyclic-1.12.2-1.10.9.jar release | 2.18 MB | Dec 25, 2017 | 1.12.2 | 35,034 | Download |
| Cyclic-1.12.2-1.10.8.jar release | 2.17 MB | Dec 20, 2017 | 1.12.2 | 31,202 | Download |
| Cyclic-1.12.2-1.10.7.jar release | 2.17 MB | Dec 19, 2017 | 1.12.2 | 980 | Download |
| Cyclic-1.12.2-1.10.5.jar release | 2.15 MB | Dec 11, 2017 | 1.12.2 | 18,586 | Download |
| Cyclic-1.12.2-1.10.4.jar release | 2.15 MB | Dec 10, 2017 | 1.12.2 | 1,456 | Download |
| Cyclic-1.12.2-1.9.13.jar release | 2.08 MB | Nov 18, 2017 | 1.12.2 | 28,644 | Download |
| Cyclic-1.12.2-1.9.11.jar release | 2.08 MB | Nov 13, 2017 | 1.12.2 | 1,177 | Download |
| Cyclic-1.12.2-1.9.10.jar release | 2.07 MB | Nov 10, 2017 | 1.12.2 | 2,942 | Download |
| Cyclic-1.12.2-1.9.9.jar release | 2.07 MB | Nov 6, 2017 | 1.12.2 | 35,256 | Download |
| Cyclic-1.12.2-1.9.8.jar release | 1.94 MB | Oct 31, 2017 | 1.12.2 | 16,472 | Download |
| Cyclic-1.12.2-1.9.7.jar release | 1.94 MB | Oct 25, 2017 | 1.12.2 | 21,582 | Download |
| Cyclic-1.12.2-1.9.5.jar release | 1.94 MB | Oct 16, 2017 | 1.12.2 | 13,531 | Download |
| Cyclic-1.12.2-1.9.4.jar release | 1.94 MB | Oct 14, 2017 | 1.12.2 | 1,523 | Download |
| Cyclic-1.12.2-1.9.3.jar release | 1.94 MB | Oct 12, 2017 | 1.12.2 | 10,615 | Download |
| Cyclic-1.12.2-1.9.2.jar release | 1.95 MB | Oct 7, 2017 | 1.12.2 | 1,998 | Download |
| Cyclic-1.12.2-1.9.1.jar release | 1.94 MB | Oct 6, 2017 | 1.12.2 | 2,724 | Download |
| Cyclic-1.10.2-1.10.30.jar release | 1.27 MB | Oct 4, 2017 | 1.10.2 | 1,514,603 | Download |
| Cyclic-1.12.2-1.9.0.jar release | 1.94 MB | Oct 3, 2017 | 1.12.2 | 774 | Download |
| Cyclic-1.12-1.8.6.jar release | 1.95 MB | Sep 25, 2017 | 1.12.2 | 34,625 | Download |
| Cyclic-1.12-1.8.5.jar release | 1.94 MB | Sep 22, 2017 | 1.12.2 | 4,042 | Download |
| Cyclic-1.12-1.8.4.jar release | 1.94 MB | Sep 18, 2017 | 1.12.1 | 10,938 | Download |
| Cyclic-1.12-1.8.3.jar release | 1.93 MB | Sep 10, 2017 | 1.12.1 | 1,797 | Download |
| Cyclic-1.12-1.8.1.jar release | 1.93 MB | Sep 9, 2017 | 1.12.1 | 1,782 | Download |
| Cyclic-1.12-1.8.0.jar release | 1.93 MB | Sep 5, 2017 | 1.12.1 | 7,471 | Download |
| Cyclic-1.12-1.7.10.jar release | 1.69 MB | Aug 25, 2017 | 1.12.1 | 16,343 | Download |
| Cyclic-1.12-1.7.9.jar release | 1.69 MB | Aug 19, 2017 | 1.12.1 | 3,073 | Download |
| Cyclic-1.12-1.7.8.jar release | 1.68 MB | Aug 16, 2017 | 1.12.1 | 16,386 | Download |
| Cyclic-1.12-1.7.7.jar release | 1.68 MB | Aug 12, 2017 | 1.12.1 | 1,639 | Download |
| Cyclic-1.11.2-1.5.11.jar release | 1.49 MB | Aug 12, 2017 | 1.11.2 | 84,962 | Download |
| Cyclic-1.12-1.7.6.jar release | 1.68 MB | Aug 8, 2017 | 1.12.1 | 3,110 | Download |
| Cyclic-1.12-1.7.5.jar release | 1.68 MB | Aug 6, 2017 | 1.12.1 | 13,048 | Download |
| Cyclic-1.12-1.7.4.jar release | 1.68 MB | Aug 5, 2017 | 1.12.1 | 4,877 | Download |
| Cyclic-1.12-1.7.3.jar release | 1.68 MB | Aug 3, 2017 | 1.12 | 8,829 | Download |
| Cyclic-1.12-1.7.2.jar release | 1.66 MB | Jul 29, 2017 | 1.12 | 7,660 | Download |
| Cyclic-1.11.2-1.5.10.jar release | 1.49 MB | Jul 28, 2017 | 1.11.2 | 11,967 | Download |
| Cyclic-1.12-1.7.1.jar release | 1.66 MB | Jul 26, 2017 | 1.12 | 4,398 | Download |
| Cyclic-1.12-1.6.1.jar release | 1.57 MB | Jul 16, 2017 | 1.12 | 15,243 | Download |
| Cyclic-1.11.2-1.5.9.jar release | 1.68 MB | Jul 14, 2017 | 1.11.2 | 12,061 | Download |
| Cyclic-1.10.2-1.10.29.jar release | 1.27 MB | Jul 13, 2017 | 1.10.2 | 49,795 | Download |
| Cyclic-1.12-1.6.0.jar release | 1.57 MB | Jul 12, 2017 | 1.12 | 8,697 | Download |
| Cyclic-1.12-1.5.11.jar release | 1.55 MB | Jul 9, 2017 | 1.12 | 5,307 | Download |
| Cyclic-1.12-1.5.10.jar release | 1.55 MB | Jul 8, 2017 | 1.12 | 770 | Download |
| Cyclic-1.11.2-1.5.8.jar release | 1.49 MB | Jul 7, 2017 | 1.11.2 | 4,095 | Download |
| Cyclic-1.10.2-1.10.28.jar release | 1.27 MB | Jul 4, 2017 | 1.10.2 | 245,203 | Download |
| Cyclic-1.12-1.5.9.jar release | 1.55 MB | Jul 3, 2017 | 1.12 | 5,955 | Download |
| Cyclic-1.10.2-1.10.27.jar release | 1.27 MB | Jun 26, 2017 | 1.10.2 | 2,262 | Download |
| Cyclic-1.11.2-1.5.7.jar release | 1.50 MB | Jun 23, 2017 | 1.11.2 | 17,919 | Download |
| Cyclic-1.10.2-1.10.26.jar release | 1.27 MB | Jun 23, 2017 | 1.10.2 | 1,421 | Download |
| Cyclic-1.11.2-1.5.6.jar release | 1.50 MB | Jun 19, 2017 | 1.11.2 | 8,110 | Download |
| Cyclic-1.11.2-1.5.5.jar release | 1.48 MB | Jun 14, 2017 | 1.11.2 | 5,310 | Download |
| Cyclic-1.11.2-1.5.4.jar release | 1.48 MB | Jun 13, 2017 | 1.11.2 | 604 | Download |
| Cyclic-1.10.2-1.10.25.jar release | 1.27 MB | Jun 13, 2017 | 1.10.2 | 22,050 | Download |
| Cyclic-1.11.2-1.5.3.jar release | 1.48 MB | Jun 12, 2017 | 1.11.2 | 484 | Download |
| Cyclic-1.11.2-1.5.2.jar release | 1.48 MB | Jun 6, 2017 | 1.11.2 | 9,688 | Download |
| Cyclic-1.11.2-1.5.1.jar release | 1.48 MB | Jun 5, 2017 | 1.11.2 | 665 | Download |
| Cyclic-1.11.2-1.5.0.jar release | 1.47 MB | May 31, 2017 | 1.11.2 | 3,417 | Download |
| Cyclic-1.10.2-1.10.24.jar release | 1.27 MB | May 24, 2017 | 1.10.2 | 38,870 | Download |
| Cyclic-1.11.2-1.4.7.jar release | 1.47 MB | May 23, 2017 | 1.11.2 | 16,459 | Download |
| Cyclic-1.10.2-1.10.23.jar release | 1.27 MB | May 22, 2017 | 1.10.2 | 1,242 | Download |
| Cyclic-1.11.2-1.4.4.jar release | 1.47 MB | May 18, 2017 | 1.11.2 | 2,169 | Download |
| Cyclic-1.11.2-1.4.3.jar release | 1.47 MB | May 17, 2017 | 1.11.2 | 3,659 | Download |
| Cyclic-1.11.2-1.4.2.jar release | 1.47 MB | May 14, 2017 | 1.11.2 | 2,841 | Download |
| Cyclic-1.10.2-1.10.22.jar release | 1.27 MB | May 5, 2017 | 1.10.2 | 218,797 | Download |
| Cyclic-1.11.2-1.3.6.jar release | 1.35 MB | May 4, 2017 | 1.11.2 | 2,915 | Download |
| Cyclic-1.11.2-1.3.3.jar release | 1.32 MB | May 1, 2017 | 1.11.2 | 658 | Download |
| Cyclic-1.11.2-1.3.2.jar release | 1.32 MB | Apr 30, 2017 | 1.11.2 | 296 | Download |
| Cyclic-1.10.2-1.10.21.jar release | 1.27 MB | Apr 30, 2017 | 1.10.2 | 9,554 | Download |
| Cyclic-1.11.2-1.3.1.jar release | 1.32 MB | Apr 27, 2017 | 1.11.2 | 2,689 | Download |
| Cyclic-1.10.2-1.10.20.jar release | 1.27 MB | Apr 21, 2017 | 1.10.2 | 23,667 | Download |
| Cyclic-1.11.2-1.2.9.jar release | 1.28 MB | Apr 19, 2017 | 1.11.2 | 4,368 | Download |
| Cyclic-1.10.2-1.10.19.jar release | 1.27 MB | Apr 19, 2017 | 1.10.2 | 1,887 | Download |
| Cyclic-1.11.2-1.2.8.jar release | 1.28 MB | Apr 10, 2017 | 1.11.2 | 6,970 | Download |
| Cyclic-1.11.2-1.2.7.jar release | 1.28 MB | Apr 4, 2017 | 1.11.2 | 3,143 | Download |
| Cyclic-1.10.2-1.10.18.jar release | 1.27 MB | Apr 4, 2017 | 1.10.2 | 16,617 | Download |
| Cyclic-1.11.2-1.2.6.jar release | 1.28 MB | Apr 1, 2017 | 1.11.2 | 4,523 | Download |
| Cyclic-1.10.2-1.10.17.jar release | 1.27 MB | Mar 31, 2017 | 1.10.2 | 2,239 | Download |
| Cyclic-1.11.2-1.2.5.jar release | 1.28 MB | Mar 29, 2017 | 1.11.2 | 1,532 | Download |
| Cyclic-1.10.2-1.10.16.jar release | 1.27 MB | Mar 28, 2017 | 1.10.2 | 912 | Download |
| Cyclic-1.11.2-1.2.4.jar release | 1.28 MB | Mar 26, 2017 | 1.11.2 | 1,511 | Download |
| Cyclic-1.11.2-1.2.3.jar release | 1.28 MB | Mar 25, 2017 | 1.11.2 | 480 | Download |
| Cyclic-1.11.2-1.2.2.jar release | 1.28 MB | Mar 20, 2017 | 1.11.2 | 1,620 | Download |
| Cyclic-1.11.2-1.2.1.jar release | 1.28 MB | Mar 18, 2017 | 1.11.2 | 477 | Download |
| Cyclic-1.11.2-1.2.0.jar release | 1.28 MB | Mar 15, 2017 | 1.11.2 | 6,879 | Download |
| Cyclic-1.10.2-1.10.15.jar release | 1.27 MB | Mar 13, 2017 | 1.10.2 | 146,970 | Download |
| Cyclic-1.11.2-1.1.4.jar release | 1.23 MB | Mar 5, 2017 | 1.11.2 | 7,921 | Download |
| Cyclic-1.10.2-1.10.14.jar release | 1.22 MB | Mar 5, 2017 | 1.10.2 | 7,957 | Download |
| Cyclic-1.11.2-1.1.3.jar release | 1.21 MB | Mar 3, 2017 | 1.11.2 | 538 | Download |
| Cyclic-1.10.2-1.10.13.jar release | 1.21 MB | Mar 2, 2017 | 1.10.2 | 2,361 | Download |
| Cyclic-1.10.2-1.10.12.jar release | 1.20 MB | Mar 1, 2017 | 1.10.2 | 486 | Download |
| Cyclic-1.11.2-1.1.2.jar release | 1.19 MB | Feb 27, 2017 | 1.11.2 | 545 | Download |
| Cyclic-1.10.2-1.10.11.jar release | 1.19 MB | Feb 23, 2017 | 1.10.2 | 3,793 | Download |
| Cyclic-1.10.2-1.10.7.jar release | 1.16 MB | Feb 12, 2017 | 1.10.2 | 11,828 | Download |
| Cyclic-1.10.2-1.10.6.jar release | 1.16 MB | Feb 8, 2017 | 1.10.2 | 1,314 | Download |
| Cyclic-1.10.2-1.10.5.jar release | 1.16 MB | Feb 6, 2017 | 1.10.2 | 20,507 | Download |
| Cyclic-1.10.2-1.10.4.jar release | 1.15 MB | Feb 5, 2017 | 1.10.2 | 925 | Download |
| Cyclic-1.10.2-1.10.3.jar release | 1.15 MB | Feb 4, 2017 | 1.10.2 | 774 | Download |
| Cyclic-1.10.2-1.10.2.jar release | 1.14 MB | Feb 1, 2017 | 1.10.2 | 36,309 | Download |
| Cyclic-1.10.2-1.10.1.jar release | 1.14 MB | Jan 29, 2017 | 1.10.2 | 40,903 | Download |
| Cyclic-1.10.2-1.10.0.jar release | 1.14 MB | Jan 28, 2017 | 1.10.2 | 682 | Download |
| Cyclic-1.10.2-1.9.19.jar release | 1.13 MB | Jan 22, 2017 | 1.10.2 | 2,611 | Download |
| Cyclic-1.10.2-1.9.18.jar release | 1.13 MB | Jan 21, 2017 | 1.10.2 | 916 | Download |
| Cyclic-1.10.2-1.9.17.jar release | 1.12 MB | Jan 18, 2017 | 1.10.2 | 1,169 | Download |
| Cyclic-1.10.2-1.9.16.jar release | 1.12 MB | Jan 17, 2017 | 1.10.2 | 792 | Download |
| Cyclic-1.10.2-1.9.15.jar release | 1.12 MB | Jan 15, 2017 | 1.10.2 | 642 | Download |
| Cyclic-1.10.2-1.9.14.jar release | 1.12 MB | Jan 12, 2017 | 1.10.2 | 2,758 | Download |
| Cyclic-1.10.2-1.9.12.jar release | 1.09 MB | Jan 6, 2017 | 1.10.2 | 87,851 | Download |
| Cyclic-1.10.2-1.9.11.jar release | 1.09 MB | Jan 5, 2017 | 1.10.2 | 5,147 | Download |
| Cyclic-1.10.2-1.9.10.jar release | 1.08 MB | Dec 31, 2016 | 1.10.2 | 5,846 | Download |
| Cyclic-1.10.2-1.9.9.jar release | 1.05 MB | Dec 29, 2016 | 1.10.2 | 11,663 | Download |
| Cyclic-1.10.2-1.9.8.jar release | 1.05 MB | Dec 28, 2016 | 1.10.2 | 348 | Download |
| Cyclic-1.10.2-1.9.7.jar release | 1.05 MB | Dec 27, 2016 | 1.10.2 | 571 | Download |
| Cyclic-1.10.2-1.9.6.jar release | 1.03 MB | Dec 26, 2016 | 1.10.2 | 1,667 | Download |
| Cyclic-1.10.2-1.9.5.jar release | 1.03 MB | Dec 24, 2016 | 1.10.2 | 1,356 | Download |
| Cyclic-1.10.2-1.9.4.jar release | 1.00 MB | Dec 21, 2016 | 1.10.2 | 2,351 | Download |
| Cyclic-1.10.2-1.9.3.jar release | 1.00 MB | Dec 17, 2016 | 1.10.2 | 1,738 | Download |
| Cyclic-1.10.2-1.9.1.jar release | 1,017.68 KB | Dec 10, 2016 | 1.10.2 | 61,118 | Download |
| Cyclic-1.10.2-1.9.0.jar release | 1,017.04 KB | Dec 9, 2016 | 1.10.2 | 666 | Download |
| Cyclic-1.10.2-1.8.15.jar release | 1,016.36 KB | Dec 8, 2016 | 1.10.2 | 1,003 | Download |
| Cyclic-1.10.2-1.8.14.jar release | 1,016.08 KB | Dec 5, 2016 | 1.10.2 | 980 | Download |
| Cyclic-1.10.2-1.8.13.jar release | 1,004.52 KB | Nov 24, 2016 | 1.10.2 | 52,756 | Download |
| Cyclic-1.10.2-1.8.11.jar release | 991.01 KB | Nov 20, 2016 | 1.10.2 | 1,395 | Download |
| Cyclic-1.10.2-1.8.10.jar release | 982.04 KB | Nov 19, 2016 | 1.10.2 | 532 | Download |
| Cyclic-1.10.2-1.8.9.jar release | 982.17 KB | Nov 18, 2016 | 1.10.2 | 989 | Download |
| Cyclic-1.10.2-1.8.8.jar release | 993.40 KB | Nov 17, 2016 | 1.10.2 | 25,055 | Download |
| Cyclic-1.10.2-1.8.7.jar release | 992.55 KB | Nov 15, 2016 | 1.10.2 | 893 | Download |
| Cyclic-1.10.2-1.8.6.jar release | 985.89 KB | Nov 13, 2016 | 1.10.2 | 1,113 | Download |
| Cyclic-1.10.2-1.8.4.jar release | 1,001.51 KB | Nov 11, 2016 | 1.10.2 | 755 | Download |
| Cyclic-1.10.2-1.8.1.jar release | 977.19 KB | Nov 7, 2016 | 1.10.2 | 317 | Download |
| Cyclic-1.10.2-1.7.20.jar release | 953.39 KB | Oct 24, 2016 | 1.10.2 | 51,820 | Download |
| Cyclic-1.10.2-1.7.19.jar release | 953.00 KB | Oct 24, 2016 | 1.10.2 | 244 | Download |
| Cyclic-1.10.2-1.7.17.jar release | 952.03 KB | Oct 23, 2016 | 1.10.2 | 410 | Download |
| Cyclic-1.10.2-1.7.16.jar release | 951.88 KB | Oct 23, 2016 | 1.10.2 | 258 | Download |
| Cyclic-1.10.2-1.7.15.jar release | 947.35 KB | Oct 14, 2016 | 1.10.2 | 3,985 | Download |
| Cyclic-1.10.2-1.7.14.jar release | 947.09 KB | Oct 13, 2016 | 1.10.2 | 34,639 | Download |
| Cyclic-1.10.2-1.7.13.jar release | 946.84 KB | Oct 10, 2016 | 1.10.2 | 630 | Download |
| Cyclic-1.10.2-1.7.12.jar release | 935.52 KB | Oct 4, 2016 | 1.10.2 | 4,678 | Download |
| Cyclic-1.10.2-1.7.10.jar release | 935.00 KB | Sep 30, 2016 | 1.10.2 | 69,311 | Download |
| Cyclic-1.10.2-1.7.9.jar release | 924.07 KB | Sep 29, 2016 | 1.10.2 | 279 | Download |
| Cyclic-1.10.2-1.7.8.jar release | 923.44 KB | Sep 28, 2016 | 1.10.2 | 266 | Download |
| Cyclic-1.10.2-1.7.7.jar release | 922.78 KB | Sep 26, 2016 | 1.10.2 | 263 | Download |
| Cyclic-1.10.2-1.7.5.jar release | 891.08 KB | Sep 17, 2016 | 1.10.2 | 564 | Download |
| Cyclic-1.10.2-1.7.4.jar release | 885.42 KB | Sep 7, 2016 | 1.10.2 | 5,165 | Download |
| Cyclic-1.10.2-1.7.3.jar release | 886.03 KB | Sep 5, 2016 | 1.10.2 | 263 | Download |
| Cyclic-1.10.2-1.7.2.jar release | 885.88 KB | Sep 4, 2016 | 1.10.2 | 253 | Download |
| Cyclic-1.10.2-1.7.1.jar release | 885.97 KB | Sep 3, 2016 | 1.10.2 | 398 | Download |
| Cyclic-1.10.2-1.7.0.jar release | 883.44 KB | Sep 2, 2016 | 1.10.2 | 266 | Download |
| Cyclic-1.10.2-1.6.4.jar release | 838.71 KB | Aug 30, 2016 | 1.10.2 | 534 | Download |
| Cyclic-1.10.2-1.6.3.jar release | 838.82 KB | Aug 29, 2016 | 1.10.2 | 259 | Download |
| Cyclic-1.10.2-1.6.2.jar release | 815.67 KB | Aug 28, 2016 | 1.10.2 | 249 | Download |
| Cyclic-1.10.2-1.6.1.jar release | 795.40 KB | Aug 25, 2016 | 1.10.2 | 385 | Download |
| Cyclic-1.10.2-1.6.0.jar release | 794.23 KB | Aug 24, 2016 | 1.10.2 | 270 | Download |
| Cyclic-1.10.2-1.5.3.jar release | 743.43 KB | Aug 20, 2016 | 1.10.2 | 679 | Download |
| Cyclic-1.10.2-1.5.2.jar release | 742.54 KB | Aug 13, 2016 | 1.10.2 | 549 | Download |
| Cyclic-1.10.2-1.5.1.jar release | 742.52 KB | Aug 9, 2016 | 1.10.2 | 2,559 | Download |
| Cyclic-1.10.2-1.5.0.jar release | 742.72 KB | Aug 5, 2016 | 1.10.2 | 1,045 | Download |
| Cyclic-1.10.2-1.4.5.jar release | 728.90 KB | Aug 2, 2016 | 1.10.2 | 337 | Download |
| Cyclic-1.10.2-1.4.4.jar release | 728.85 KB | Aug 1, 2016 | 1.10.2 | 220 | Download |
| Cyclic-1.10.2-1.4.3.jar release | 716.13 KB | Jul 22, 2016 | 1.10.2 | 1,528 | Download |
| Cyclic-1.10.2-1.4.2.jar release | 716.11 KB | Jul 21, 2016 | 1.10.2 | 264 | Download |
| Cyclic-1.10.2-1.4.1.jar release | 716.02 KB | Jul 18, 2016 | 1.10.2 | 1,552 | Download |
| Cyclic-1.10.2-1.4.0.jar release | 715.99 KB | Jul 15, 2016 | 1.10.2 | 954 | Download |
| Cyclic-1.10.2-1.3.5.jar release | 700.39 KB | Jul 12, 2016 | 1.10.2 | 401 | Download |
| Cyclic-1.10.2-1.3.4.jar release | 699.64 KB | Jul 7, 2016 | 1.10.2 | 1,145 | Download |
| Cyclic-1.10.2-1.3.2.jar release | 698.87 KB | Jul 5, 2016 | 1.10.2 | 621 | Download |
| Cyclic-1.10.2-1.3.1.jar release | 698.62 KB | Jul 4, 2016 | 1.10.2 | 287 | Download |
| Cyclic-1.10.2-1.3.0.jar release | 698.63 KB | Jul 4, 2016 | 1.10.2 | 272 | Download |
| Cyclic-1.9.4-1.2.0.jar release | 694.62 KB | Jul 2, 2016 | 1.9.4 | 3,156 | Download |
| Cyclic-1.10.2-1.2.0.jar release | 694.89 KB | Jul 2, 2016 | 1.10.2 | 647 | Download |
| Cyclic-1.10.2-1.1.0.jar release | 687.31 KB | Jul 2, 2016 | 1.10.2 | 280 | Download |
| Cyclic-1.9.4-1.1.0.jar release | 687.51 KB | Jul 1, 2016 | 1.9.4 | 371 | Download |
| Cyclic-1.10-1.1.0.jar release | 687.46 KB | Jul 1, 2016 | 1.10 | 5,457 | Download |
| Cyclic-1.10-1.0.2.jar release | 672.90 KB | Jun 29, 2016 | 1.10 | 443 | Download |
| Cyclic-1.10-1.0.1.jar release | 672.16 KB | Jun 28, 2016 | 1.10 | 301 | Download |
| Cyclic-1.10-1.0.0.jar release | 670.72 KB | Jun 25, 2016 | 1.10 | 655 | Download |
| Cyclic-1.9.4-1.0.0.jar release | 670.63 KB | Jun 25, 2016 | 1.9.4 | 500 | Download |
| Cyclic-1.18-1.6.7.jar beta | 3.91 MB | Dec 10, 2021 | 1.18.1 | 44,815 | Download |
| Cyclic-1.18-1.6.6.jar beta | 3.90 MB | Dec 6, 2021 | 1.18.1 | 5,031 | Download |
| Cyclic-1.18-1.6.5.jar beta | 3.90 MB | Dec 5, 2021 | 1.18 | 1,888 | Download |
| Cyclic-1.16.5-1.5.0.jar beta | 3.61 MB | Oct 4, 2021 | 1.16.5 | 1,216 | Download |
| Cyclic-1.16.5-1.4.0.jar beta | 3.35 MB | Sep 8, 2021 | 1.16.5 | 101,177 | Download |
| Cyclic-1.16.5-1.3.6.jar beta | 3.28 MB | Aug 23, 2021 | 1.16.5 | 95,328 | Download |
| Cyclic-1.12.2-1.20.10.jar beta | 3.80 MB | Jul 12, 2021 | 1.12.2 | 9,727 | Download |
| Cyclic-1.16.5-1.3.0.jar beta | 3.19 MB | Jul 3, 2021 | 1.16.5 | 3,284 | Download |
| Cyclic-1.16.5-1.2.9.jar beta | 2.98 MB | Jun 4, 2021 | 1.16.5 | 38,250 | Download |
| Cyclic-1.16.5-1.2.6.jar beta | 2.95 MB | Apr 15, 2021 | 1.16.5 | 30,861 | Download |
| Cyclic-1.16.5-1.2.4.jar beta | 2.91 MB | Apr 12, 2021 | 1.16.5 | 18,935 | Download |
| Cyclic-1.15.2-0.7.2.jar beta | 2.09 MB | Jan 20, 2021 | 1.15.2 | 101,052 | Download |
| Cyclic-1.15.2-0.7.1.jar beta | 2.09 MB | Jan 19, 2021 | 1.15.2 | 2,946 | Download |
| Cyclic-1.16.4-1.1.3.jar beta | 2.89 MB | Jan 15, 2021 | 1.16.5 | 22,275 | Download |
| Cyclic-1.16.3-0.9.0.jar beta | 2.60 MB | Nov 8, 2020 | 1.16.4 | 1,671 | Download |
| Cyclic-1.16.3-0.8.2.jar beta | 2.48 MB | Oct 15, 2020 | 1.16.3 | 14,133 | Download |
| Cyclic-1.16.3-0.8.1.jar beta | 2.47 MB | Oct 11, 2020 | 1.16.3 | 11,462 | Download |
| Cyclic-1.16.3-0.8.0.jar beta | 2.33 MB | Oct 6, 2020 | 1.16.3 | 14,294 | Download |
| Cyclic-1.16.3-0.7.1.jar beta | 2.32 MB | Sep 16, 2020 | 1.16.3 | 6,591 | Download |
| Cyclic-1.16.2-0.7.0.jar beta | 2.28 MB | Sep 11, 2020 | 1.16.2 | 1,941 | Download |
| Cyclic-1.15.2-0.7.0.jar beta | 2.09 MB | Sep 11, 2020 | 1.15.2 | 45,930 | Download |
| Cyclic-1.16.2-0.6.2.jar beta | 2.13 MB | Aug 23, 2020 | 1.16.2 | 6,314 | Download |
| Cyclic-1.15.2-0.6.2.jar beta | 2.12 MB | Aug 22, 2020 | 1.15.2 | 23,614 | Download |
| Cyclic-1.16.2-0.6.1.jar beta | 2.12 MB | Aug 20, 2020 | 1.16.2 | 1,851 | Download |
| Cyclic-1.16.1-0.6.1.jar beta | 2.12 MB | Jul 26, 2020 | 1.16.1 | 39,936 | Download |
| Cyclic-1.15.2-0.6.1.jar beta | 2.12 MB | Jul 25, 2020 | 1.15.2 | 18,661 | Download |
| Cyclic-1.15.2-0.6.0.jar beta | 2.08 MB | Jul 8, 2020 | 1.15.2 | 13,512 | Download |
| Cyclic-1.15.2-0.5.0.jar beta | 2.04 MB | Jul 3, 2020 | 1.15.2 | 4,626 | Download |
| Cyclic-1.15.2-0.4.2.jar beta | 1.95 MB | Jun 21, 2020 | 1.15.2 | 23,122 | Download |
| Cyclic-1.15.2-0.4.1.jar beta | 1.95 MB | May 3, 2020 | 1.15.2 | 140,874 | Download |
| Cyclic-1.15.2-0.4.0.jar beta | 1.95 MB | Apr 26, 2020 | 1.15.2 | 31,698 | Download |
| Cyclic-1.15.2-0.3.4.jar beta | 1.88 MB | Apr 19, 2020 | 1.15.2 | 37,759 | Download |
| Cyclic-1.15.2-0.3.3.jar beta | 1.88 MB | Apr 19, 2020 | 1.15.2 | 928 | Download |
| Cyclic-1.12.2-1.20.0.jar beta | 3.81 MB | Apr 14, 2020 | 1.12.2 | 647 | Download |
| Cyclic-1.15.2-0.3.2.jar beta | 1.87 MB | Apr 8, 2020 | 1.15.2 | 54,686 | Download |
| Cyclic-1.15.2-0.3.1.jar beta | 1.87 MB | Apr 7, 2020 | 1.15.2 | 638 | Download |
| Cyclic-1.15.2-0.3.0.jar beta | 1.80 MB | Apr 3, 2020 | 1.15.2 | 27,046 | Download |
| Cyclic-1.15.2-0.2.0.jar beta | 1.77 MB | Mar 19, 2020 | 1.15.2 | 82,912 | Download |
| Cyclic-1.15.2-0.1.11.jar beta | 1.76 MB | Mar 2, 2020 | 1.15.2 | 85,153 | Download |
| Cyclic-1.15.2-0.1.10.jar beta | 1.74 MB | Feb 16, 2020 | 1.15.2 | 44,706 | Download |
| Cyclic-1.15.2-0.1.9.jar beta | 1.74 MB | Feb 16, 2020 | 1.15.2 | 520 | Download |
| Cyclic-1.15.2-0.1.8.jar beta | 1.73 MB | Feb 5, 2020 | 1.15.2 | 55,428 | Download |
| Cyclic-1.15.2-0.1.7.jar beta | 1.73 MB | Feb 4, 2020 | 1.15.2 | 3,938 | Download |
| Cyclic-1.15.1-0.1.6.jar beta | 1.57 MB | Jan 26, 2020 | 1.15.1 | 3,423 | Download |
| Cyclic-1.15.1-0.1.5.jar beta | 1.57 MB | Jan 21, 2020 | 1.15.1 | 26,900 | Download |
| Cyclic-1.15.1-0.1.4.jar beta | 1.56 MB | Jan 20, 2020 | 1.15.1 | 792 | Download |
| Cyclic-1.15.1-0.1.3.jar beta | 1.53 MB | Jan 19, 2020 | 1.15.1 | 495 | Download |
| Cyclic-1.12.2-1.19.2.jar beta | 3.77 MB | Apr 13, 2019 | 1.12.2 | 628,847 | Download |
| Cyclic-1.12.2-1.19.1.jar beta | 3.77 MB | Apr 13, 2019 | 1.12.2 | 4,081 | Download |
| Cyclic-1.12.2-1.19.0.jar beta | 3.77 MB | Apr 9, 2019 | 1.12.2 | 10,696 | Download |
| Cyclic-1.12.2-1.18.6.jar beta | 3.66 MB | Apr 1, 2019 | 1.12.2 | 8,078 | Download |
| Cyclic-1.12.2-1.18.0.jar beta | 3.64 MB | Feb 24, 2019 | 1.12.2 | 2,438 | Download |
| Cyclic-1.12.2-1.17.11.jar beta | 3.49 MB | Dec 17, 2018 | 1.12.2 | 22,206 | Download |
| Cyclic-1.12.2-1.17.2.jar beta | 3.44 MB | Sep 13, 2018 | 1.12.2 | 32,239 | Download |
| Cyclic-1.12.2-1.17.1.jar beta | 3.42 MB | Sep 3, 2018 | 1.12.2 | 25,320 | Download |
| Cyclic-1.12.2-1.17.0.jar beta | 3.33 MB | Aug 27, 2018 | 1.12.2 | 21,097 | Download |
| Cyclic-1.12.2-1.16.4.jar beta | 3.27 MB | Jul 26, 2018 | 1.12.2 | 1,374 | Download |
| Cyclic-1.12.2-1.16.1.jar beta | 3.25 MB | Jul 11, 2018 | 1.12.2 | 8,888 | Download |
| Cyclic-1.12.2-1.16.0.jar beta | 3.25 MB | Jul 8, 2018 | 1.12.2 | 550 | Download |
| Cyclic-1.12.2-1.15.3.jar beta | 2.75 MB | May 19, 2018 | 1.12.2 | 1,311 | Download |
| Cyclic-1.12.2-1.15.2.jar beta | 2.67 MB | May 13, 2018 | 1.12.2 | 18,346 | Download |
| Cyclic-1.12.2-1.15.1.jar beta | 2.67 MB | May 12, 2018 | 1.12.2 | 368 | Download |
| Cyclic-1.12.2-1.15.0.jar beta | 2.66 MB | May 9, 2018 | 1.12.2 | 2,157 | Download |
| Cyclic-1.12.2-1.14.2.jar beta | 2.39 MB | Mar 15, 2018 | 1.12.2 | 2,943 | Download |
| Cyclic-1.12.2-1.14.1.jar beta | 2.38 MB | Mar 10, 2018 | 1.12.2 | 3,293 | Download |
| Cyclic-1.12.2-1.14.0.jar beta | 2.38 MB | Mar 8, 2018 | 1.12.2 | 389 | Download |
| Cyclic-1.12.2-1.12.0.jar beta | 2.23 MB | Feb 11, 2018 | 1.12.2 | 1,040 | Download |
| Cyclic-1.12.2-1.11.1.jar beta | 2.35 MB | Jan 29, 2018 | 1.12.2 | 14,207 | Download |
| Cyclic-1.12.2-1.11.0.jar beta | 2.32 MB | Jan 22, 2018 | 1.12.2 | 4,681 | Download |
| Cyclic-1.12.2-1.10.6.jar beta | 2.17 MB | Dec 16, 2017 | 1.12.2 | 11,457 | Download |
| Cyclic-1.12.2-1.10.1.jar beta | 2.10 MB | Nov 29, 2017 | 1.12.2 | 1,040 | Download |
| Cyclic-1.12.2-1.9.12.jar beta | 2.08 MB | Nov 13, 2017 | 1.12.2 | 20,372 | Download |
| Cyclic-1.12-1.7.0.jar beta | 1.66 MB | Jul 23, 2017 | 1.12 | 1,411 | Download |
| Cyclic-1.12-1.5.8.jar beta | 1.55 MB | Jun 30, 2017 | 1.12 | 1,778 | Download |
| Cyclic-1.11.2-1.4.6.jar beta | 1.47 MB | May 22, 2017 | 1.11.2 | 945 | Download |
| Cyclic-1.11.2-1.4.5.jar beta | 1.47 MB | May 21, 2017 | 1.11.2 | 5,003 | Download |
| Cyclic-1.11.2-1.4.1.jar beta | 1.43 MB | May 12, 2017 | 1.11.2 | 295 | Download |
| Cyclic-1.11.2-1.4.0.jar beta | 1.40 MB | May 9, 2017 | 1.11.2 | 3,811 | Download |
| Cyclic-1.11.2-1.3.0.jar beta | 1.32 MB | Apr 24, 2017 | 1.11.2 | 5,995 | Download |
| Cyclic-1.11.2-1.1.1.jar beta | 1.19 MB | Feb 26, 2017 | 1.11.2 | 277 | Download |
| Cyclic-1.11.2-1.1.0.jar beta | 1.19 MB | Feb 26, 2017 | 1.11.2 | 253 | Download |
| Cyclic-1.10.2-1.10.10.jar beta | 1.19 MB | Feb 23, 2017 | 1.10.2 | 580 | Download |
| Cyclic-1.10.2-1.10.9.jar beta | 1.18 MB | Feb 21, 2017 | 1.10.2 | 85,531 | Download |
| Cyclic-1.10.2-1.10.8.jar beta | 1.19 MB | Feb 20, 2017 | 1.10.2 | 801 | Download |
| Cyclic-1.11.2-1.0.0.jar beta | 1.12 MB | Jan 15, 2017 | 1.11.2 | 23,219 | Download |
| Cyclic-1.10.2-1.9.13.jar beta | 1.11 MB | Jan 9, 2017 | 1.10.2 | 2,336 | Download |
| Cyclic-1.10.2-1.9.2.jar beta | 1.00 MB | Dec 12, 2016 | 1.10.2 | 1,600 | Download |
| Cyclic-1.10.2-1.8.12.jar beta | 993.44 KB | Nov 22, 2016 | 1.10.2 | 714 | Download |
| Cyclic-1.10.2-1.8.5.jar beta | 985.86 KB | Nov 13, 2016 | 1.10.2 | 663 | Download |
| Cyclic-1.10.2-1.8.3.jar beta | 1,001.50 KB | Nov 10, 2016 | 1.10.2 | 785 | Download |
| Cyclic-1.10.2-1.8.2.jar beta | 978.29 KB | Nov 7, 2016 | 1.10.2 | 41,006 | Download |
| Cyclic-1.10.2-1.8.0.jar beta | 976.68 KB | Nov 5, 2016 | 1.10.2 | 907 | Download |
| Cyclic-1.10.2-1.7.22.jar beta | 971.69 KB | Nov 1, 2016 | 1.10.2 | 2,739 | Download |
| Cyclic-1.10.2-1.7.21.jar beta | 969.48 KB | Oct 28, 2016 | 1.10.2 | 1,466 | Download |
| Cyclic-1.10.2-1.7.6.jar beta | 921.51 KB | Sep 24, 2016 | 1.10.2 | 367 | Download |
| cyclicmagic-1.8.9-1.3.0.jar beta | 297.94 KB | Feb 16, 2016 | 1.8.9 | 2,994 | Download |
| cyclicmagic-1.8.9-1.2.1.jar beta | 263.77 KB | Feb 8, 2016 | 1.8.9 | 155 | Download |
| cyclicmagic-1.8.9-1.2.0.jar beta | 182.62 KB | Feb 7, 2016 | 1.8.9 | 99 | Download |
| cyclicmagic-1.8.9-1.1.1.jar beta | 180.48 KB | Feb 6, 2016 | 1.8.9 | 99 | Download |
| cyclicmagic-1.8.9-1.1.0.jar beta | 179.37 KB | Feb 5, 2016 | 1.8.9 | 72 | Download |
| cyclicmagic-1.8.9-1.0.5.jar beta | 167.30 KB | Jan 20, 2016 | 1.8.9 | 392 | Download |
| cyclicmagic-1.8.9-1.0.4.jar beta | 167.11 KB | Jan 13, 2016 | 1.8.9 | 246 | Download |
| cyclicmagic-1.8.9-1.0.3.jar beta | 166.97 KB | Jan 11, 2016 | 1.8.9 | 149 | Download |
| cyclicmagic-1.8.8-1.0.2.jar beta | 166.84 KB | Jan 6, 2016 | 1.8.8 | 299 | Download |
| cyclicmagic-1.8.8-1.0.1.jar beta | 166.67 KB | Jan 5, 2016 | 1.8.8 | 85 | Download |
| cyclicmagic-1.8.8-1.0.0.jar beta | 166.26 KB | Jan 2, 2016 | 1.8.8 | 147 | Download |
| Cyclic-1.19.2-1.7.10.jar alpha | 4.42 MB | Sep 12, 2022 | 1.19.2 | 1,329 | Download |
| Cyclic-1.19.2-1.7.9.jar alpha | 4.41 MB | Sep 5, 2022 | 1.19.2 | 4,424 | Download |
| Cyclic-1.19-1.7.8.jar alpha | 4.40 MB | Aug 1, 2022 | 1.19.2 | 30,158 | Download |
| Cyclic-1.19-1.7.7.jar alpha | 4.40 MB | Jul 29, 2022 | 1.19.1 | 2,193 | Download |
| Cyclic-1.19-1.7.6.jar alpha | 4.40 MB | Jul 29, 2022 | 1.19.1 | 467 | Download |
| Cyclic-1.16.5-1.5.16.jar alpha | 3.65 MB | Jun 29, 2022 | 1.16.5 | 932 | Download |
| Cyclic-1.16.5-1.5.12.jar alpha | 3.64 MB | Dec 9, 2021 | 1.16.5 | 15,594 | Download |
| Cyclic-1.17.1-1.6.5.jar alpha | 3.90 MB | Nov 30, 2021 | 1.17.1 | 19,499 | Download |
| Cyclic-1.17.1-1.6.4.jar alpha | 3.90 MB | Nov 28, 2021 | 1.17.1 | 1,534 | Download |
| Cyclic-1.17.1-1.6.3.jar alpha | 3.90 MB | Nov 25, 2021 | 1.17.1 | 2,025 | Download |
| Cyclic-1.17.1-1.6.2.jar alpha | 3.85 MB | Nov 17, 2021 | 1.17.1 | 29,458 | Download |
| Cyclic-1.17.1-1.6.1.jar alpha | 3.86 MB | Nov 9, 2021 | 1.17.1 | 3,871 | Download |
| Cyclic-1.17.1-1.6.0.jar alpha | 3.84 MB | Nov 3, 2021 | 1.17.1 | 28,336 | Download |
| Cyclic-1.12.2-1.20.7.jar alpha | 3.81 MB | Oct 21, 2020 | 1.12.2 | 30,949 | Download |
| Cyclic-1.14.4-0.1.5.jar alpha | 1.54 MB | Apr 27, 2020 | 1.14.4 | 102,261 | Download |
| Cyclic-1.14.4-0.1.4.jar alpha | 1.54 MB | Apr 15, 2020 | 1.14.4 | 70,277 | Download |
| Cyclic-1.14.4-0.1.3.jar alpha | 1.54 MB | Jan 19, 2020 | 1.14.4 | 385,527 | Download |
| Cyclic-1.14.4-0.1.2.jar alpha | 1.54 MB | Jan 11, 2020 | 1.14.4 | 58,310 | Download |
| Cyclic-1.14.4-0.1.1.jar alpha | 1.54 MB | Jan 8, 2020 | 1.14.4 | 3,795 | Download |
| Cyclic-1.14.4-0.1.0.jar alpha | 1.54 MB | Jan 6, 2020 | 1.14.4 | 818 | Download |
| Cyclic-1.14.4-0.0.12.jar alpha | 1.46 MB | Sep 23, 2019 | 1.14.4 | 407,520 | Download |
| Cyclic-1.14.4-0.0.11.jar alpha | 1.44 MB | Sep 8, 2019 | 1.14.4 | 38,280 | Download |
| Cyclic-1.14.4-0.0.10.jar alpha | 1.40 MB | Sep 3, 2019 | 1.14.4 | 4,103 | Download |
| Cyclic-1.14.4-0.0.9.jar alpha | 1.39 MB | Aug 26, 2019 | 1.14.4 | 13,073 | Download |
| Cyclic-1.14.4-0.0.8.jar alpha | 1.38 MB | Aug 26, 2019 | 1.14.4 | 1,494 | Download |
| Cyclic-1.14.4-0.0.7.jar alpha | 1.34 MB | Aug 24, 2019 | 1.14.4 | 37,380 | Download |
| Cyclic-1.14.4-0.0.6.jar alpha | 1.30 MB | Aug 23, 2019 | 1.14.4 | 268 | Download |
| Cyclic-1.14.4-0.0.5.jar alpha | 1.30 MB | Aug 22, 2019 | 1.14.4 | 2,878 | Download |
| Cyclic-1.14.4-0.0.4.jar alpha | 1.27 MB | Aug 19, 2019 | 1.14.4 | 11,351 | Download |
| Cyclic-1.14.4-0.0.3.jar alpha | 1.27 MB | Aug 18, 2019 | 1.14.4 | 341 | Download |
| Cyclic-1.14.4-0.0.2.jar alpha | 1.27 MB | Aug 18, 2019 | 1.14.4 | 616 | Download |
| Cyclic-1.14.4-0.0.1.jar alpha | 1.24 MB | Aug 17, 2019 | 1.14.4 | 856 | Download |
| Cyclic-1.12.2-1.18.2.jar alpha | 3.65 MB | Mar 11, 2019 | 1.12.2 | 91,479 | Download |
| Cyclic-1.12.2-1.17.8.jar alpha | 3.48 MB | Nov 22, 2018 | 1.12.2 | 795 | Download |
| Cyclic-1.12.2-1.15.11.jar alpha | 3.03 MB | Jun 16, 2018 | 1.12.2 | 2,847 | Download |
| Cyclic-1.12.2-1.15.10.jar alpha | 3.03 MB | Jun 13, 2018 | 1.12.2 | 3,985 | Download |
| Cyclic-1.12.2-1.15.9.jar alpha | 3.03 MB | Jun 11, 2018 | 1.12.2 | 2,079 | Download |
| Cyclic-1.12.2-1.10.3.jar alpha | 2.13 MB | Dec 4, 2017 | 1.12.2 | 35,237 | Download |
| Cyclic-1.12.2-1.10.2.jar alpha | 2.13 MB | Dec 1, 2017 | 1.12.2 | 1,895 | Download |
| Cyclic-1.12.2-1.10.0.jar alpha | 2.10 MB | Nov 28, 2017 | 1.12.2 | 344 | Download |
| Cyclic-1.12.2-1.9.6.jar alpha | 1.94 MB | Oct 23, 2017 | 1.12.2 | 32,674 | Download |
| Cyclic-1.12-1.8.2.jar alpha | 1.93 MB | Sep 10, 2017 | 1.12.1 | 8,276 | Download |
| Cyclic-1.12-1.7.12.jar alpha | 1.71 MB | Aug 27, 2017 | 1.12.1 | 719 | Download |
| Cyclic-1.12-1.5.7.jar alpha | 1.54 MB | Jun 21, 2017 | 1.12 | 3,234 | Download |
| Cyclic-1.12-1.5.6.jar alpha | 1.48 MB | Jun 19, 2017 | 1.12 | 949 | Download |
| Cyclic-1.12-1.5.5.jar alpha | 1.47 MB | Jun 17, 2017 | 1.12 | 1,291 | Download |
| Cyclic-1.11.2-1.3.5.jar alpha | 1.33 MB | May 3, 2017 | 1.11.2 | 593 | Download |
| Cyclic-1.11.2-1.3.4.jar alpha | 1.33 MB | May 2, 2017 | 1.11.2 | 232 | Download |
| Cyclic-1.10.2-1.7.18.jar alpha | 952.81 KB | Oct 23, 2016 | 1.10.2 | 578 | Download |
| Cyclic-1.10.2-1.7.11.jar alpha | 935.04 KB | Oct 2, 2016 | 1.10.2 | 609 | Download |
Description
This mod adds a large variety of unrelated items, tools, machines, enchantments, and a few potions.

For learning the mod, we suggest installing the mod Patchouli and checking out the Cyclic Guide Book item (in 1.16+).
For 1.12, there is a similar guide book written in Guide API
Minecraft 1.12  — Sample config here
Minecraft 1.16 — Sample config here
Minecraft 1.12 Crafttweaker Examples
Files marked as "1.16.5" require a minimum Forge  1.16.4-35.1.22
Tech Talk – 3rd party tools used
Sound effects made with BFXR http://www.bfxr.net/
Some models made with the help of Crayfish Model Creator https://mrcrayfish.com/tools?id=mc
Coded using Minecraft Forge API, using Eclipse and Gradle
Textures created with Paint.net
 Open Source Shoutouts!
In the spirit of open source, thanking those other mods where I have used a tiny piece of code from them within Cyclic
Botania – Vector3 class 
Not Enough Wands – OpenGL Rendering functions 
Builders Guides – Open GL Rendering functions
Random Things – using FakePlayers to affect the world from a tile entity
Baubles – Saving Item Stacks for a player in a binary file
Vanilla Automation – Using PlayerControllerMP to change player reach distance
Sponge – They helped me with network packets, multithreading, concurrent exceptions, and scheduled server tasks
Ellpeck (AA) for some beautiful energy transfer code
 Tutorials / Guides / Reference Shoutouts!
Tools
Player Experience
Finding existing recipes
Tile Entities
TESR
ItemBlock metadata
GUIs
Advanced Tile Entities and also this
Particles
Block State changes
Block Rotation
Client Server sync and also this and this
Achievements
Block Transparency
GUI Text Input
Client Proxy tips
Custom Sound Effects and also this
Using mod API's such as JEI or Baubles
Proxy Rendering
Potions and Potion Textures
Circles and Spheres
Player events and also this
Entity Damage
Villager GUI
Sound attribution
Doorbell sound credits:
 http://soundbible.com/1599-Store-Door-Chime.html
 License: Attribution 3.0
 Recorded by Mike Koenig
All other contributors and translators
Classic Modpacks:
We Gonna Die
FTB HermitPack
Beyond-Vanilla
Material Energy^Ex
Shadowlands
Technology Advanced
Overpowered Non-Content
Hyper Antix
Nameless Pack (JonBams)
The Modded Way Pixelmon
CoupleCraft 2
Farming Valley
The New Frontier
We Gonna Die Again
All The Mods 2
Mech & Magic
Hypothermia
Skills Not Included
Enigmatica 2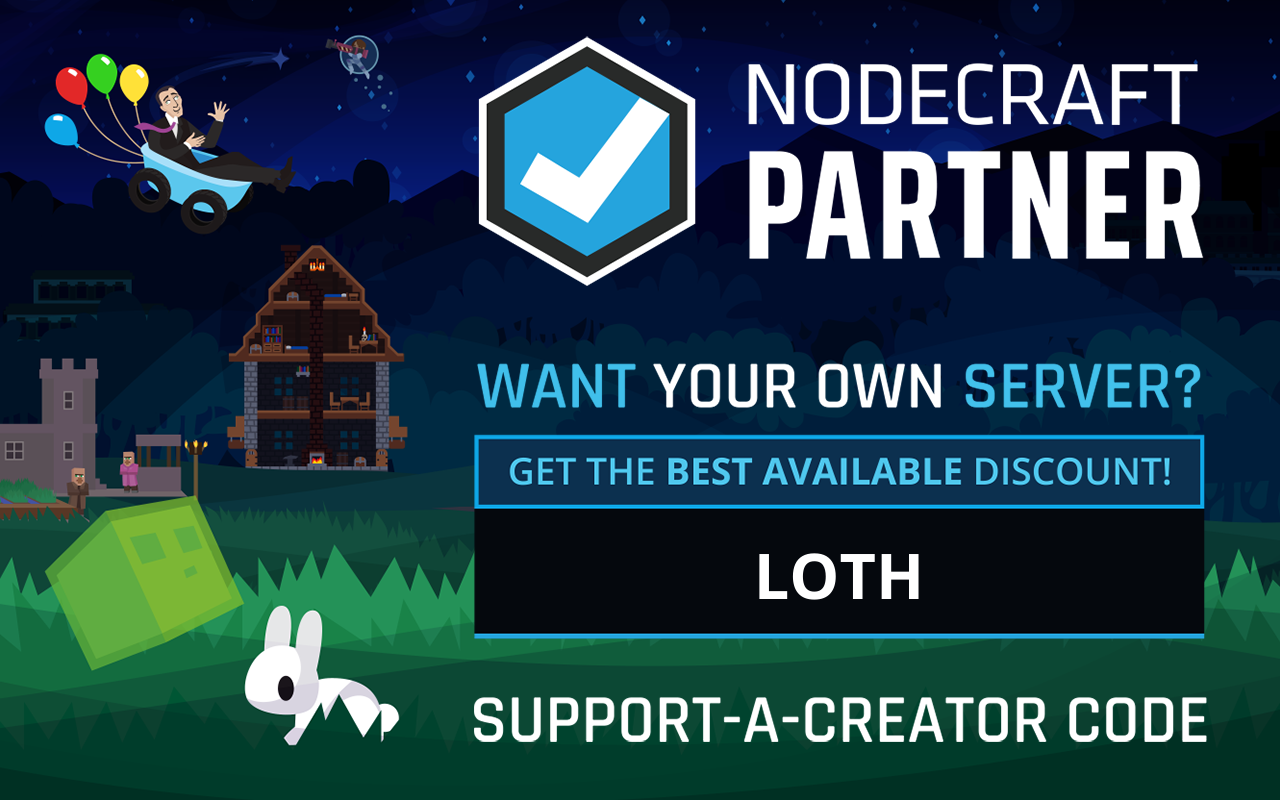 TALK TO ME