Earlier Versions
| | | | | | |
| --- | --- | --- | --- | --- | --- |
| HotbarLock v1.0.1 MC 1.16.1-1.16.4 release | 20.39 KB | Dec 16, 2020 | 1.16.4 | 1,807 | Download |
| HotbarLock v1.0 MC 1.16.1-1.16.2 release | 20.35 KB | Aug 20, 2020 | 1.16.2 | 119 | Download |
| HotbarLock v1.0 MC 1.16.1 release | 20.33 KB | Aug 7, 2020 | 1.16.1 | 83 | Download |
| HotbarLock v1.0 MC 1.15.2 release | 20.21 KB | Aug 7, 2020 | 1.15.2 | 60 | Download |
| HotbarLock v1.0 MC 1.12-1.12.2 release | 20.51 KB | Aug 7, 2020 | 1.12.2 | 3,965 | Download |
| HotbarLock v1.0 MC 1.8.9 release | 20.14 KB | Aug 7, 2020 | 1.8.9 | 224 | Download |
Description
About 

Ever got into a stressful situation and accidentally dropped one of your hotbar items? Well, we all know this.
But that does not have to be one of these well known "that's-just-how-it-is" cases.
With HotbarLock, you can lock or unlock your hotbar slots just by pressing a key.
Every slot can be locked or unlocked separately!
HotbarLock is forge-based and a client-side mod, which means, you can use it on servers that don't have it installed!
A simple and small GUI over your hotbar helps you to always know which slots are currently locked.
Of course this GUI can be disabled in the mod config!

Better Accessibility
HotbarLock has some very helpful config options to make your life a little easier.
Colorblind Mode
The colorblind mode changes the red GUI color for locked slots to pink for better visiblity.

Chat Output
By enbaling the chat output, you will receive a chat message when locking or unlocking a hotbar slot.
This gives you the ability to disable the GUI and keep knowing which slot got locked or unlocked.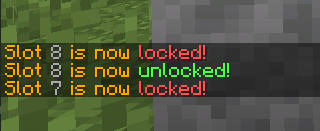 Locking a Hotbar Slot
Locking a slot is very easy and can be done by just pressing a hotkey. The default key for toggling a slot is "R" and can be changed in the controls settings.
Mod Configuration
The mod config is located at ".minecraft/config/hotbarlock/config.txt" and can be edited with a simple text editor.
A minecraft restart is needed after changing options in the config.
Modpacks
HotbarLock can be freely used in modpacks without any special requirements.
History of HotbarLock
The *original* HotbarLock mod was released back in 2018.
This version was also coded and released by me, but I forgot about my old account on MinecraftPatch and now the account seems to be deleted.
I decided to completely rewrite the mod and upload it to my new account, because the first version was very badly coded and I would not recommend this thing to anyone..
Copyright

HotbarLock
Copyright © 2020 Keksuccino.
Server Needed?

You need a Minecraft server to play with your friends but it's just too much work to setup one on your own?
No problem, just rent an ready-to-use server and start playing in a snap!
Just click on the image below and use the code keksuccino to get 25% off your first month!