Earlier Versions
| | | | | | |
| --- | --- | --- | --- | --- | --- |
| quickpaths_1.12.2-1.8.jar release | 7.59 KB | Aug 5, 2021 | 1.12.2 | 0 | Download |
| quickpaths_1.17.1-1.8.jar release | 7.65 KB | Aug 4, 2021 | 1.17.1 | 27 | Download |
| quickpaths_1.16.5-1.8.jar release | 7.63 KB | Aug 4, 2021 | 1.16.5 | 26 | Download |
| quickpaths_1.17.1-1.7.jar release | 7.64 KB | Jul 27, 2021 | 1.17.1 | 441 | Download |
| quickpaths_1.17.1-1.6.jar release | 7.64 KB | Jul 27, 2021 | 1.17.1 | 6 | Download |
| quickpaths_1.16.5-1.6.jar release | 7.60 KB | Jul 7, 2021 | 1.16.5 | 249 | Download |
| quickpaths_1.16.5-1.5.jar release | 7.60 KB | Feb 27, 2021 | 1.16.5 | 11,584 | Download |
| quickpaths_1.15.2-1.5.jar release | 7.59 KB | Feb 27, 2021 | 1.15.2 | 77 | Download |
| quickpaths_1.14.4-1.5.jar release | 7.57 KB | Feb 27, 2021 | 1.14.4 | 24 | Download |
| quickpaths_1.12.2-1.5.jar release | 7.51 KB | Feb 27, 2021 | 1.12.2 | 119 | Download |
| quickpaths_1.16.5-1.4.jar release | 7.41 KB | Feb 8, 2021 | 1.16.5 | 1,490 | Download |
| quickpaths_1.15.2-1.4.jar release | 7.39 KB | Feb 8, 2021 | 1.15.2 | 8,521 | Download |
| quickpaths_1.14.4-1.4.jar release | 7.38 KB | Feb 8, 2021 | 1.14.4 | 11 | Download |
| quickpaths_1.12.2-1.4.jar release | 7.35 KB | Feb 8, 2021 | 1.12.2 | 33 | Download |
| quickpaths_1.16.5-1.3.jar release | 9.06 KB | Feb 2, 2021 | 1.16.5 | 139 | Download |
| quickpaths_1.15.2-1.3.jar release | 9.02 KB | Feb 2, 2021 | 1.15.2 | 15 | Download |
| quickpaths_1.14.4-1.3.jar release | 9.01 KB | Feb 2, 2021 | 1.14.4 | 9 | Download |
| quickpaths_1.12.2-1.3.jar release | 8.90 KB | Feb 2, 2021 | 1.12.2 | 20 | Download |
| quickpaths_1.16.5-1.2.jar release | 9.06 KB | Jan 25, 2021 | 1.16.5 | 1,364 | Download |
| quickpaths_1.16.4-1.2.jar release | 9.06 KB | Nov 4, 2020 | 1.16.4 | 5,644 | Download |
| quickpaths_1.16.3_1.2.jar release | 9.06 KB | Sep 27, 2020 | 1.16.3 | 1,366 | Download |
| quickpaths_1.16.2-1.2.jar release | 9.06 KB | Aug 15, 2020 | 1.16.2 | 302 | Download |
| quickpaths_1.16-1.1.jar release | 9.00 KB | Jun 26, 2020 | 1.16.1 | 2,039 | Download |
| quickpaths_1.15-1.1.jar release | 9.00 KB | Jun 9, 2020 | 1.15.2 | 11,595 | Download |
| quickpaths_1.14-1.1.jar release | 9.00 KB | Jun 9, 2020 | 1.14.4 | 56 | Download |
Description
Requires the library mod Collective.
     This mod is part of The Vanilla Experience.
Quick Paths is a minimalistic mod which allows players to create long paths instantly by setting a start and end point.
Crouch + Right-click a grass block to set a starting point.
Right-click another grass block to finish the path.
Right-click the last clicked path block to undo the created quick path.
 
A longer path in action: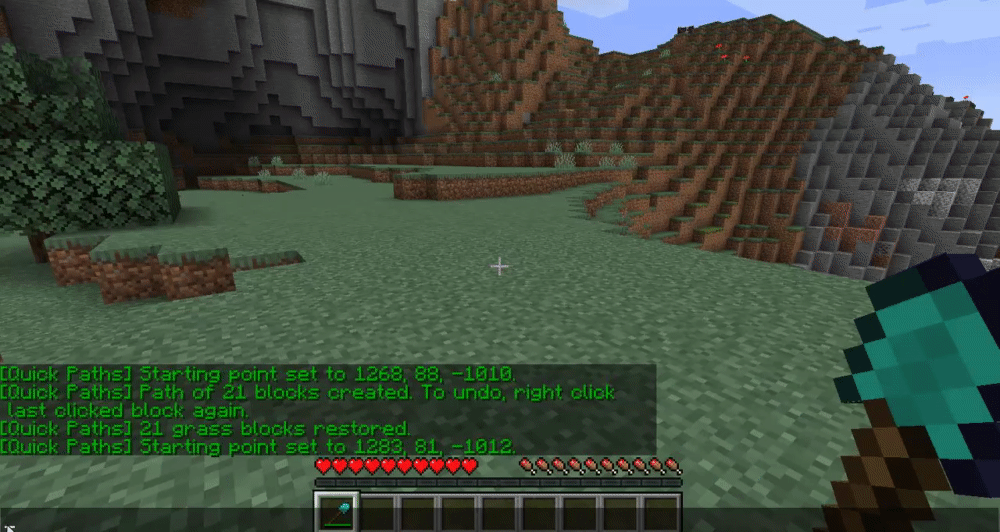 Crouch + right-click a block with a shovel to set the starting point. Right click any other block with the shovel to finish the path: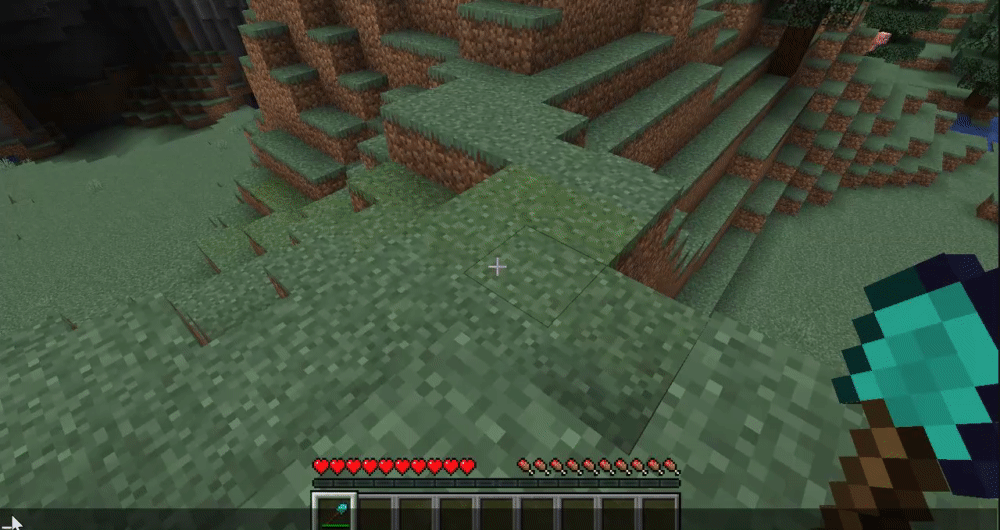 You can right click the last path block to undo the created quick path: