Earlier Versions
| | | | | | |
| --- | --- | --- | --- | --- | --- |
| Skyblock 3.07 release | 3.38 MB | Jul 25, 2017 | 1.12.2 | 466,994 | Download |
| Skyblock 3.06 release | 3.38 MB | May 13, 2017 | 1.12.2 | 26,485 | Download |
| Skyblock 3.05 release | 1.82 MB | Sep 11, 2016 | 1.11.2 | 77,619 | Download |
| Skyblock 3.04 release | 2.04 MB | Aug 20, 2016 | 1.10.2 | 52,628 | Download |
| Skyblock 3.03 release | 1.67 MB | Jul 15, 2016 | 1.10.2 | 6,236 | Download |
| Skyblock 3.01 release | 1.66 MB | Jun 10, 2016 | 1.10.2 | 7,697 | Download |
Description
Note: as many of you have guessed this map has been abandoned, but DrTrog on planetminecraft has updated the map for 1.13+: https://www.planetminecraft.com/project/skyblock-4/
Skyblock 3
Hello everyone!
I loved the Skyblock maps made by Noobcrew back in the day, but there wasn't really an end, literally.
So I updated the old map with only a few tweaks:
Nether wart is available
The End is available
10 new Challenges!
Multiple mini-islands containing extra items
Zombies have a chance of dropping gravel
Blazes have a chance of dropping nether quartz
Husks have a chance of dropping sand
Wither Skeletons have a chance of dropping soulsand
There is a worldborder from -1000 to 1000 in the Overworld and in the Nether
There are custom advancements 1.12+ only
When everyone is in the End, the worldborder gets reset 

1.12+ only

 [NEW!]
When someone leaves the End, the worldborder is back, so be careful! 

1.12+ only

 [NEW!]
Updating to 3.07 (worldborder fix) without resetting your save:
Download this zip file

Merge your save folder with the folder inside the zip

Enter your world and execute these commands:

/scoreboard objectives add end dummy
/gamerule commandBlockOutput false
/gamerule gameLoopFunction skyblock:loop
I do NOT own the Skyblock idea! I only made this map to add new possibilities to the original map.
If anyone has some new challenges I could put in this map, just tell me below!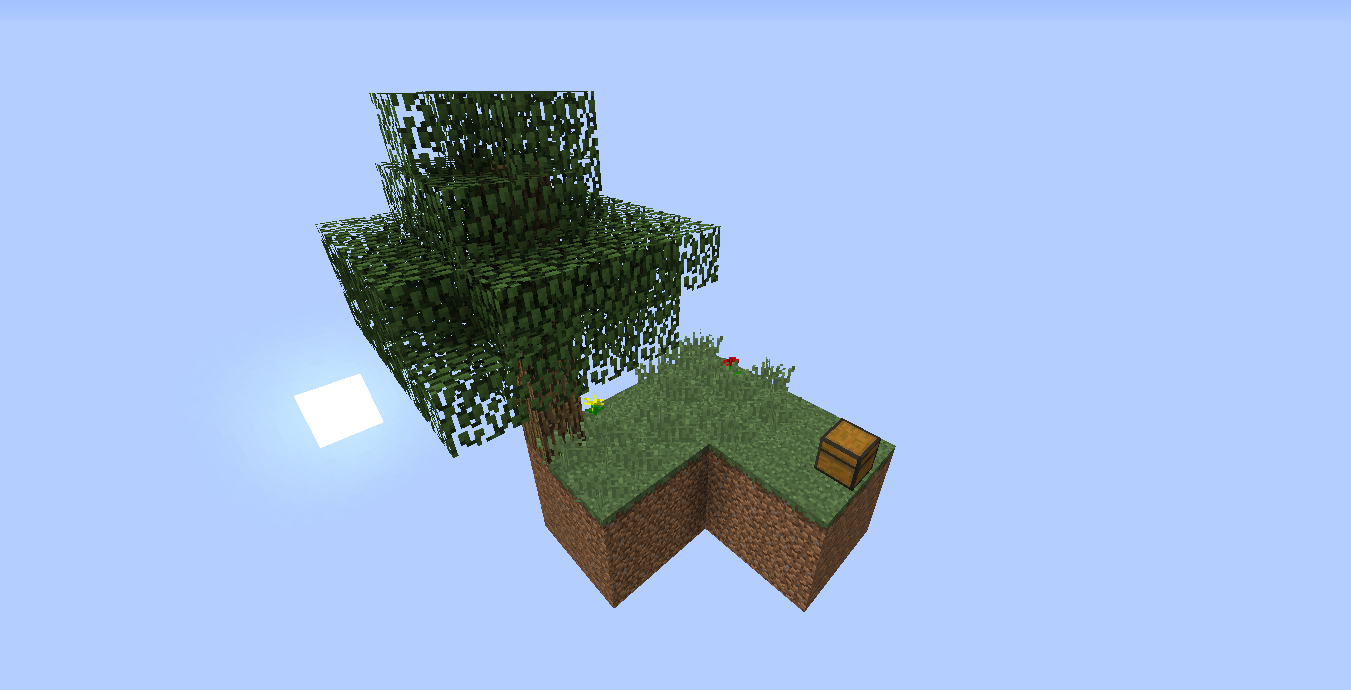 Rules and Challenges:
If you wish you may skip the old challenges you completed in 1.0/1.1/2.0/2.1
Rules:
Do not purposely jump off the island to regenerate your health.
Play on at least easy difficulty.
Old Challenges:
1) Build a Cobble Stone generator.
2) Build a house.
3) Expand the island.
4) Make a melon farm.
5) Make a pumpkin farm.
6) Make a reed/sugarcane farm.
7) Make a wheat farm.
8) Make a giant red mushroom.
9) Craft a bed.
10) Make 64 stone brick's.
11) Make 20 torches.
12) Make an infinite water source.
13) Craft a furnace.
14) Make a small lake.
15) Build a platform 24 blocks away from the island, for mobs to spawn.
16) Make 10 cactus green dye.
17) Make 10 mushroom stew.
18) Craft 10 Jack 'o' lanterns.
19) Craft 10 bookcases.
20) Make 10 bread.
21) Collect 10 Ender-pearls.
22) Cook 10 fish.
23) Craft 10 Black Wool.
24) Craft 10 Gray Wool.
25) Craft 10 Light Gray Wool.
26) Craft 10 Lime Green Wool.
27) Craft 10 Red Wool.
28) Craft 10 Yellow Wool.
29) Craft 10 Pink Wool.
30) Craft 10 Green Wool.
31) Craft 10 Orange Wool.
32) Craft 10 Snow Golems.
33) Craft 20 Paintings.
34) Build and light a nether portal.
35) Craft 5 Gold Ingots.
36) Craft 16 Glass Panes.
37) Collect 50 birch logs.
38) Collect 64 arrows and craft a bow.
39) Craft 10 stone buttons.
40) Craft 30 stone slabs.
41) Craft 10 signs.
42) Craft 20 ladders.
43) Craft 20 fences.
44) Craft 20 fence gates.
45) Craft 10 levers.
46) Craft 10 trapdoors.
47) Craft 10 stone pressure plates.
48) Craft 10 wooden pressure plates.
49) Collect 64 bonemeal.
50) Craft 20 cobblestone stairs.
New Challenges:
51) Collect 64 iron.
52) Make a gold farm in the nether.
53) Cure a zombie villager.
54) Spawn an iron golem.
55) Use redstone in three contraptions.
56) Find a slime chunk and create a slime farm.
57) Make a lava aquaduct system.
58) Go to the end and defeat the enderdragon.
59) Find an elytra.
60) Spawn and defeat the wither.
WarrioCrisps' Challenges:
61) Create a four stage beacon
62) collect 64 purple glass
63) Build a villager breeding system
64) collect full diamond armour
65) Create a cow farm
66) create 10 sticky pistons
67) respawn and kill the enderdragon
68) Build a platform from the main end island to an end island far away
69) collect a stack of Emeralds
70) Collect 10 enderdragon heads
71) craft 1 tnt
72) Collect 6 different music discs
73) Get the mending enchantment
74) fish 64 Cod
75) Create 64 Slime blocks
76) dye a full set of leather armour
77) Collect 64 Chorus Flowers
78) build a platform at the top of the world
79) make a hopper
80) make 64 dispencers
81) create a pixel art of your minecraft skin
82) name something Dinnerbone
83) Get an emerald from a Librarian Villager
84) Create a suicide booth using pistons
85) Build a platform 1000 blocks away from spawn
86) Build a 1×1 wide platform around the nether's borderwall
87) kill a total of 1000 zombies
88) kill a total of 10 witches
89) walk a total 200 Kilometres (124.27 miles)
90) collect 256 obsidian
91) Create a banner flag
92) Collect 64 Beetroot
93) collect 64 vines
94) Make 10 clocks and hang them on walls
95) Escape the nether border (Note: may be impossible)
96) Killed 100 shulkers
97) Get a sword with sharpness 5, Looting 3, Unbreaking 3, Fire aspect 2, knockback 2, mending
98) make 9 more buckets
99) Make a creeper your pet
100) Spawn and defeat 2 withers at the same time
F.A.Q.
Q) Where is the nether fortress / end portal?
A) x: -86, z: 89
Q) Can I get an infinite water source?
A) Yes you can, the main island isn't the only island.
Q) Where can I get diamonds?
A) In end cities.
Q) How can I get ___?
A) Look it up on google! There are many places that tell you how to get specific items in Skyblock.
Feedback is highly appreciated!