Earlier Versions
| | | | | | |
| --- | --- | --- | --- | --- | --- |
| rainbegoneritual_1.17.1-1.6.jar release | 6.75 KB | Jul 27, 2021 | 1.17.1 | 0 | Download |
| rainbegoneritual_1.17.1-1.5.jar release | 6.75 KB | Jul 27, 2021 | 1.17.1 | 6 | Download |
| rainbegoneritual_1.16.5-1.5.jar release | 6.71 KB | Jul 7, 2021 | 1.16.5 | 254 | Download |
| rainbegoneritual_1.16.5-1.4.jar release | 6.71 KB | Feb 27, 2021 | 1.16.5 | 10,153 | Download |
| rainbegoneritual_1.15.2-1.4.jar release | 6.67 KB | Feb 27, 2021 | 1.15.2 | 47 | Download |
| rainbegoneritual_1.14.4-1.4.jar release | 6.67 KB | Feb 27, 2021 | 1.14.4 | 19 | Download |
| rainbegoneritual_1.12.2-1.4.jar release | 6.53 KB | Feb 27, 2021 | 1.12.2 | 321 | Download |
| rainbegoneritual_1.16.5-1.3.jar release | 6.51 KB | Feb 2, 2021 | 1.16.5 | 7,776 | Download |
| rainbegoneritual_1.15.2-1.3.jar release | 6.48 KB | Feb 2, 2021 | 1.15.2 | 25 | Download |
| rainbegoneritual_1.14.4-1.3.jar release | 6.47 KB | Feb 2, 2021 | 1.14.4 | 10 | Download |
| rainbegoneritual_1.12.2-1.3.jar release | 6.36 KB | Feb 2, 2021 | 1.12.2 | 94 | Download |
| rainbegoneritual_1.16.5-1.1.jar release | 6.51 KB | Jan 25, 2021 | 1.16.5 | 3,955 | Download |
| rainbegoneritual_1.16.4-1.1.jar release | 6.51 KB | Nov 4, 2020 | 1.16.4 | 7,216 | Download |
| rainbegoneritual_1.16.3-1.1.jar release | 6.51 KB | Oct 9, 2020 | 1.16.3 | 1,474 | Download |
| rainbegoneritual_1.15.2-1.1.jar release | 6.48 KB | Oct 9, 2020 | 1.15.2 | 444 | Download |
| rainbegoneritual_1.14.4-1.1.jar release | 6.47 KB | Oct 9, 2020 | 1.14.4 | 26 | Download |
| rainbegoneritual_1.16.3-1.0.jar release | 6.51 KB | Oct 9, 2020 | 1.16.3 | 16 | Download |
| rainbegoneritual_1.15.2-1.0.jar release | 6.48 KB | Oct 9, 2020 | 1.15.2 | 8 | Download |
| rainbegoneritual_1.14.4-1.0.jar release | 6.47 KB | Oct 9, 2020 | 1.14.4 | 10 | Download |
Description
Requires the library mod Collective.
     This mod is part of The Vanilla Experience.
Rain Be Gone Ritual is a mod which was created to give players in survival a (somewhat) logical way to stop the rain. All you need is some cauldrons, a log and a flint & steel. Place the cauldrons (minimum 4, maximum 8) around the log and set the log on fire. After the ritual there will be a harmless explosion effect, the cauldrons will be filled with water and the rain will stop. See the gif below for the effect.
A GIF showing the effect: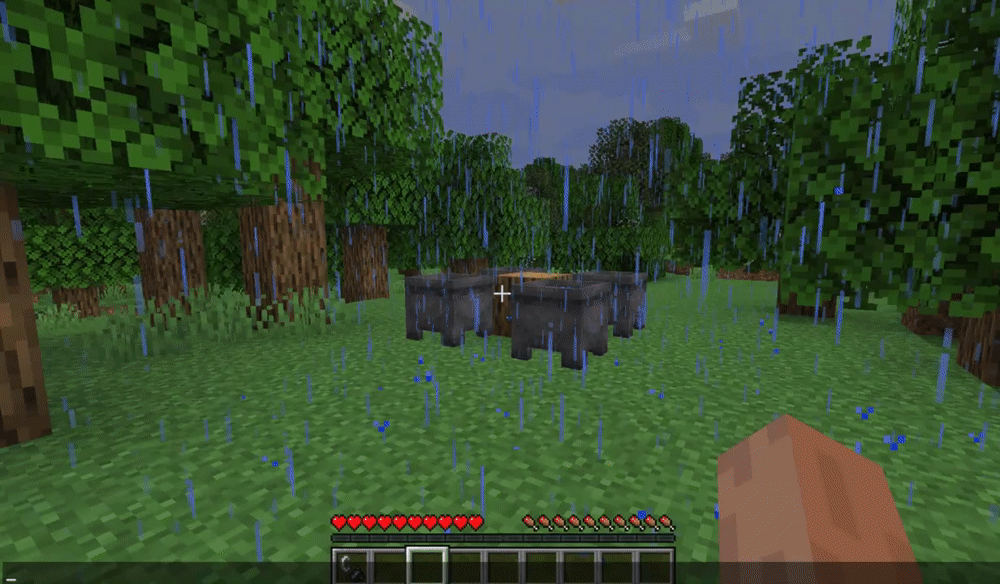 All of the following multi-block structures will work.
You need a minimum of 4 cauldrons, empty or filled doesn't matter, around the log: