Earlier Versions
| | | | | | |
| --- | --- | --- | --- | --- | --- |
| SewingKit-1.18.2-1.5.6.jar release | 177.74 KB | Mar 5, 2022 | 1.18.2 | 0 | Download |
| SewingKit-1.18.2-1.5.5.jar release | 177.07 KB | Mar 5, 2022 | 1.18.2 | 12 | Download |
| SewingKit-1.18-1.5.0.jar release | 176.52 KB | Dec 3, 2021 | 1.18.1 | 778 | Download |
| SewingKit-1.17.1-1.4.2.jar release | 173.38 KB | Aug 13, 2021 | 1.17.1 | 883 | Download |
| SewingKit-1.17.1-1.4.0.jar release | 172.14 KB | Jul 23, 2021 | 1.17.1 | 247 | Download |
| SewingKit-1.16.5-1.3.1.jar release | 174.63 KB | Feb 13, 2021 | 1.16.5 | 10,365 | Download |
| SewingKit-1.15.2-1.3.1.jar release | 172.77 KB | Feb 13, 2021 | 1.15.2 | 90 | Download |
| SewingKit-1.15.2-1.3.0.jar release | 172.17 KB | Feb 12, 2021 | 1.15.2 | 29 | Download |
| SewingKit-1.16.5-1.3.0.jar release | 176.15 KB | Feb 12, 2021 | 1.16.5 | 124 | Download |
| SewingKit-1.16.3-1.2.1.jar release | 156.34 KB | Nov 1, 2020 | 1.16.5 | 846 | Download |
| SewingKit-1.15.2-1.2.1.jar release | 154.40 KB | Nov 1, 2020 | 1.15.2 | 62 | Download |
| SewingKit-1.16.3-1.2.0.jar release | 152.72 KB | Nov 1, 2020 | 1.16.3 | 67 | Download |
| SewingKit-1.15.2-1.2.0.jar release | 150.71 KB | Nov 1, 2020 | 1.15.2 | 21 | Download |
| SewingKit-1.15.2-1.1.0.jar release | 109.64 KB | Oct 25, 2020 | 1.15.2 | 35 | Download |
| SewingKit-1.16.3-1.1.0.jar release | 111.53 KB | Oct 13, 2020 | 1.16.3 | 178 | Download |
| SewingKit-1.16.3-1.0.5.jar beta | 110.34 KB | Oct 11, 2020 | 1.16.3 | 60 | Download |
| SewingKit-1.16.3-1.0.3.jar beta | 113.44 KB | Oct 8, 2020 | 1.16.3 | 41 | Download |
| SewingKit-1.16.3-1.0.2.jar beta | 107.52 KB | Oct 8, 2020 | 1.16.3 | 22 | Download |
| SewingKit-1.16.3-1.0.1.jar beta | 99.21 KB | Oct 8, 2020 | 1.16.3 | 37 | Download |
Description
(Image used in the mod logo taken by Marco Vech, licensed under CC BY 2.0 found here)
Preamble
It has come to my attention there was a Fabric mod called "SewingKit" that attempted to do what CraftTweaker does. This mod is not related, and the name similarly is merely a coincidence.
This is a Forge mod about cutting and sewing. No worldplay.
What is Sewing Kit?
Sewing Kit is a mod all about cutting and sewing.  It is primarily intended for use by other mods and modpacks, and doesn't have a lot of features by itself.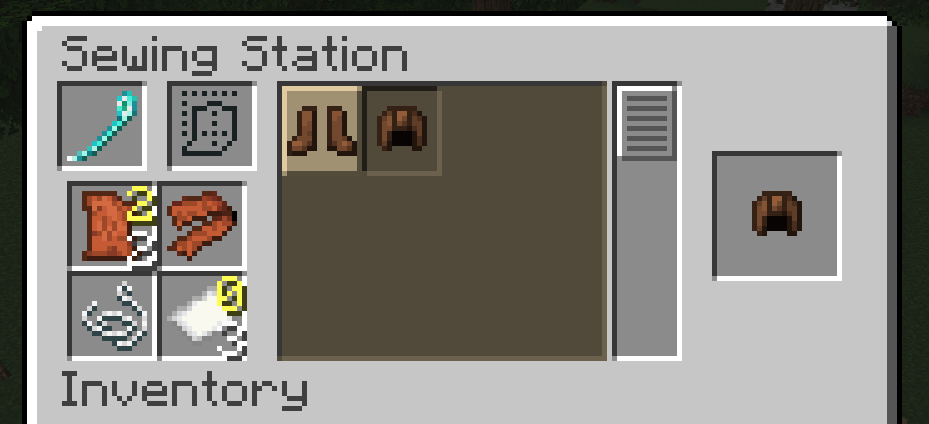 Currently:
– Adds needle items, of different tiers.
– Adds a Sewing Station, which can be used for cutting and sewing things.
– Adds recipes to cut leather into strips and sheets, for crafting materials. The cutting uses shears as a tool.
– Adds recipes to use leather strips, leather sheets, and string, to craft leather armor using less materials than traditional crafting.
– Adds wool rolls and wool trims, as crafting materials.
– Adds wool clothing. I won't call it armor, because it has no armor! But it can be dyed. 🙂
– Adds Tailor villagers, which sell wool clothing in random colors.
TODO:
– Patterns: Patterns would enable crafting special objects, and would be found in treasure chests.
Translations Welcome!
You can contribute translations at the project's GitHub page. Just clone the repository or use the web editor, it's easy!
Can I use this in <X>?
Yes. Unless <X>'s license is incompatible with this mod's, which is unlikely.
Help and Support
For bug reports and feature requests, visit the issue tracker (link above)
You can also find me on discord, ID @gigaherz#9173 on the Forge Discord and Minecraft Mod Development servers (please DO NOT DM me unless strictly necessary). 
You can also find me on Guilded.gg! I created a server there as an experiment, to see how the app works. I can't ensure that it will be a permanent place.
I've got a Patreon!
Help me continue making games and mods! Click here