Earlier Versions
| | | | | | |
| --- | --- | --- | --- | --- | --- |
| Tinted Campfires-1.18.1-1.1.2 release | 531.95 KB | Jan 8, 2022 | 1.18.1 | 304 | Download |
| Tinted Campfires-1.17.1-1.1.2 release | 532.63 KB | Jan 8, 2022 | 1.17.1 | 27 | Download |
| Tinted Campfires-1.18.1-1.1.1 release | 532.00 KB | Dec 12, 2021 | 1.18.1 | 406 | Download |
| Tinted Campfires-1.17.1-1.1.1 release | 532.68 KB | Dec 11, 2021 | 1.17.1 | 50 | Download |
| Tinted Campfires-1.16.5-1.1.1 release | 514.85 KB | Dec 11, 2021 | 1.16.5 | 118 | Download |
| Tinted Campfires-1.16.5-1.1.0 release | 514.85 KB | Dec 9, 2021 | 1.16.5 | 26 | Download |
| Tinted Campfires-1.17.1-1.1.0 release | 532.67 KB | Dec 8, 2021 | 1.17.1 | 16 | Download |
| Tinted Campfires-1.17.1-1.0.3 release | 529.54 KB | Dec 7, 2021 | 1.17.1 | 9 | Download |
| Tinted Campfires-1.16.5_1.0.2 release | 511.66 KB | Aug 7, 2021 | 1.16.5 | 242 | Download |
| Tinted Campfires-1.16.5_1.0.1 release | 511.64 KB | Aug 7, 2021 | 1.16.5 | 9 | Download |
| Tinted Campfires-1.0.0_1.16.5 release | 510.98 KB | May 6, 2021 | 1.16.5 | 621 | Download |
Description

Description
Looking for a simple mod to decorate? This mod adds a campfire for each color that exists in the game so that you can use them with the color that you like the most!
The campfires added by the mod work the same as the ones in the vanilla game.
The crafting of each campfire is very simple so that you can enjoy them quickly.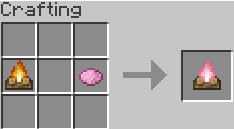 Discord
Suggestion and Support here! >Here!
Issue Tracker here!
News?!
Right now, nothing. Go to discord if you want to suggest anything to me.
Rights of Use
You as the user may do the following with this mod without asking my permission.
You can create videos or take screenshots and post them anywhere you please.
You can add it to a modpack as long as the modpack gives proper credit and links back to this page.
You as the user, may NOT do the following with the mod.
You cannot redistribute or re-upload this mod without permission!
You cannot decompile the code or reuse the artwork for other mods.