Earlier Versions
| | | | | | |
| --- | --- | --- | --- | --- | --- |
| uniqueorigins-1.1.0+1.16.5.jar release | 17.93 KB | Sep 26, 2021 | 1.16.5 | 0 | Download |
| uniqueorigins-1.0.0+1.16.5.jar beta | 14.21 KB | May 20, 2021 | 1.16.5 | 11,072 | Download |
Description
Unique Origins is a mod for 1.16.5 that modifies some of Origin's functionality in order to prevent players from picking the same origin. It also modifies the random selector, so that only the available origins can be selected randomly.
Since the mod only messes with the data sent by the server to the client, it should work server-side only!
This mod only keeps track of origins after it has been added, so any players already with origins before you add this mod will not affect the available origins for others. Additionally, this will not currently work with the selection options from orbs of origin, since it's designed for when the player logs in for the first time.
Here's a screenshot of the mod working in one of my test runs. Notice how the "Arachnid" origin is not available to the player on the left due to it being taken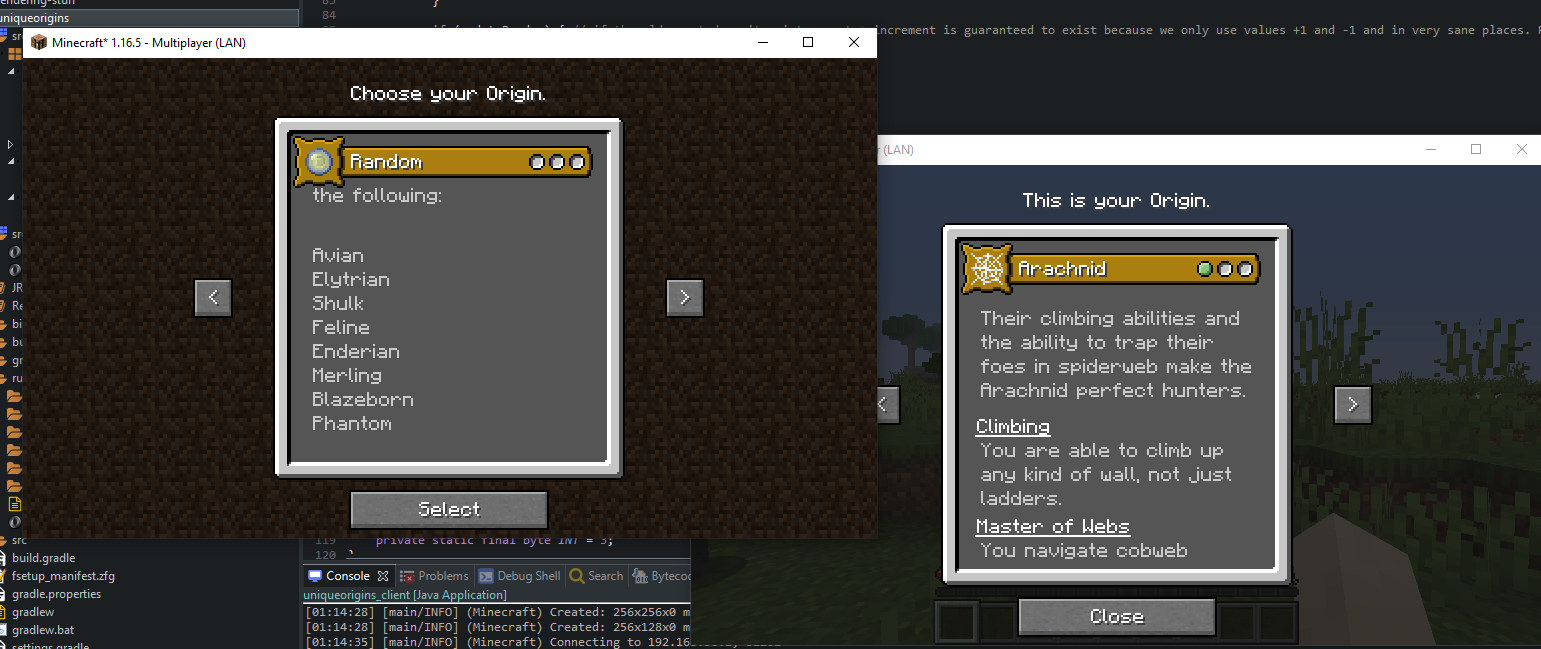 QnA:
How does it work?
– I wrote some mixins to origins and fabric api (the latter is only to catch some code called by one of Origin's mixins) that mess with the networking side of Origins, so I can modify the data being sent to clients connecting to a server.
Does it work on LAN?
– Yes! In fact, that's where I tested it first.
What if all available origins are taken?
– Simple. It starts again, handing out a second helping. etc. etc. etc. All origins being taken is handled identically in the code to when no origins have been selected yet
Does it work with origins addons?
– Theoretically, yes, since I don't touch each origin specifically, only the system for sending the data to the client.
Forge Pls?
– No, I will not port to forge. Origins isn't even on forge, for goodness sake! Someone has kindly pointed out origins is also on forge, but I still will not port to forge.